Pegase Paysage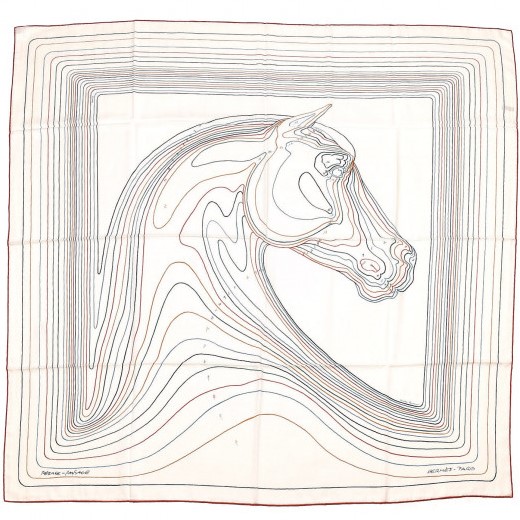 Scarf title: Pegase Paysage
Dimension: 140 x 140cm
Artist name: Christian Renonciat
Year of issue:
Collection: Fall/Winter 2019
Feature: Horse
Material: 70% cashmere, 30% silk
Product reference: H243334S
Colourway number: 01 (Blanc/Rouge/Multicolore)
Hermes retail price: AUD1,785 (SGD1,700), year 2021
Estimated resale value:
Image credit: FASHIONPHILE
The Story Behind

This horse is not a creature but a construction: it is designed and assembled. Its head is shown in profile, like a Renaissance portrait. Composed of a series of cut-out panels, it presents a complex, curvaceous, undulating, almost liquid form. Each is drawn in an infinite line, passing imperceptibly from horse to frame, frame to horse. But from another perspective – a bird's-eye view – we see a horizontal motif: a landscape, in which the horse forms the relief map of hills surrounded by water. Its outlines are contour lines, like Oriental rice fields arranged in terraces, or as if carved into the hillside over time by the receding water. It is an equine landscape.

Hermes
The estimated resale value is just a rough approximation. The resale values can be greatly differ depending on the (limited edition) design, condition, colourway, material and rarity. Eventually, the deal price is the result of agreed price between a willing buyer and seller.
Colourway
Embroidered