Chanel Costume Jewelry Dating/Stamping Mark Guide
Similar to Chanel serial number and hologram sticker, Chanel dating/stamping mark on costume jewelry are also changing over time. From unmarked to dating with season code, there are mass varieties on how these stamping marks were made on the costume jewelry. From engraving to embossing to laser-imprinting, different font types, presentation formats were used and rare/unusual format such as laser-imprinted marks without the MADE IN FRANCE or year of production are found on authentic Chanel costume jewelry. However, one thing for sure is that all stamping marks are in capital letters.
The Continuous Line and Seasonal Line
For Chanel bags under continuous line, the year and season code is 00V. However, this code does not apply on the costume jewelry. Costume jewelry that are under continuous line will have production year specified followed by code V. For jewelry belongs to seasonal line, the stamping mark has production year followed by season code P (printemps), S (summer), A (autumn), B or K (fall/winter), C (cruise) and T (transition). The stamping marks are tiny especially the laser imprinted marks that was introduced in recent years thus they can make photo taking very challenging for the purpose of authentication through images.
The Production Countries
What I was sharing here was not absolute or error free but merely my own observation on Chanel necklaces, bracelets, earrings, rings and brooches. Although Chanel bags are made in France, Italy or Spain, I personally have not came across Chanel costume jewelry that were made in Spain but France and Italy. I did not mean Chanel costume jewelry that was made in Spain is non-authentic. If you have authentic Chanel costume jewelry which was made in Spain and would like to share with readers here, please email me the product details and clear images. I thank you for your kind sharing in advance.
The Various Stamping Marks
Authenticating Chanel costume jewelry is not solely based on verifying the stamping marks but the overall jewelry itself. However, I still hope that you can fully utilise the information here to help yourself verifying the authenticity of Chanel costume jewelry you sought after in the resale market.
The font types and formats used on stamping marks are changing with time. Some costume jewelry have no stamp at all and usually I do not recommend those who ask me for an opinion to take such risk unless the jewelry is from reputable secondhand dealers like Reebonz, Yoogi's Closet, Lollipuff or get it authenticated by an independent authenticator before purchasing.
The Plaque
I have seen plaques with Chanel stamping marks in circle, oval, rectangular and octagon. In vintage Chanel jewelry, some plaques in round shape were bent to fit on the narrow spaces where they were placed. In rare cases, plaques were welded slightly diagonally on clasps. Some plaques have different colour from the jewelry hardware, this too, is less common, i.e. jewelry in goldtone with a plaque in silvertone.

As for the placement, some plaques were hung as adornments (commonly found on bracelets and necklaces), adhered to the jewelry like on a pearl, set on shape-matching grooves or welded at the reverse side of the jewelry, or secured with wires (commonly found on brooches).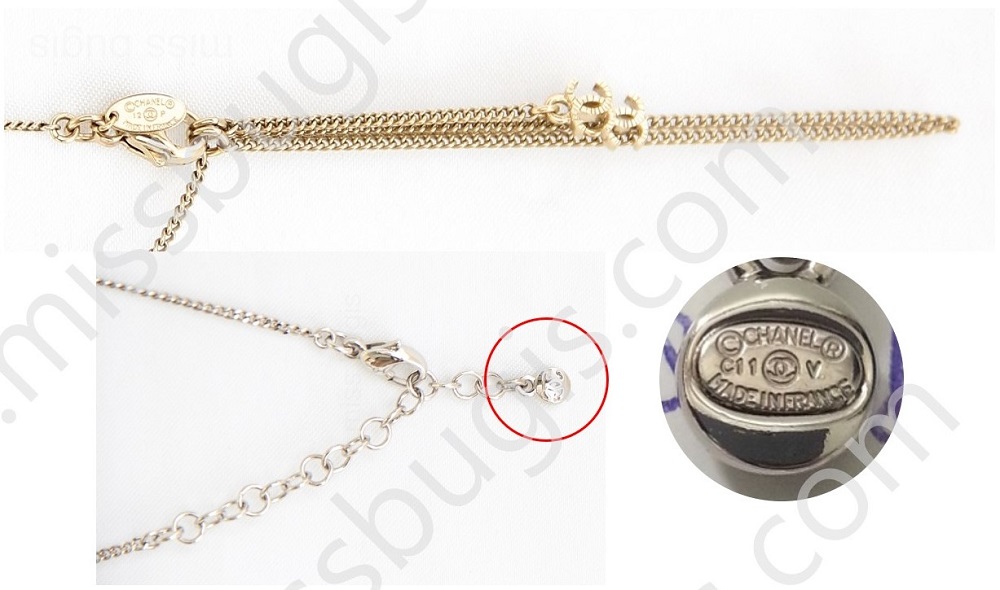 There is no such standard rule on plaque with a hole at one side is used on bracelet, or plaque with holes at both side is used on brooch. Different styles of plaque can be found on costume jewelry of the same category (category here refers to necklace, bracelet, ring etc). This too, was based solely on my observation only.
The Engraving, Embossing and Laser Imprinting
Not all Chanel costume jewelry come with a plaque. Some have their stamping marks engraved, laser imprinted or embossed on parts of the jewelry such as clasp, reverse side of charm/earring and leather.

If you are curious about laser imprinting technology, watch the video below. I have set the video to start from 8:42. Please start at this time stamp if you want to replay the video.
For costume jewelry comes as a set, each of the individual item will has its own stamping mark. Example, a set of jewelry consists of three bangles of different colours will a stamping mark on each of the bangle. The same applies to earrings.
Dating Chanel Costume Jewelry With Stamping Marks
1950s to 1970s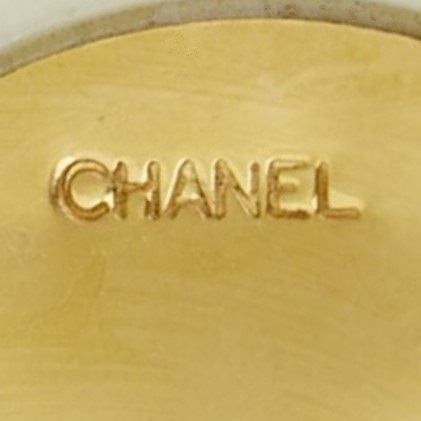 1970s to 1980s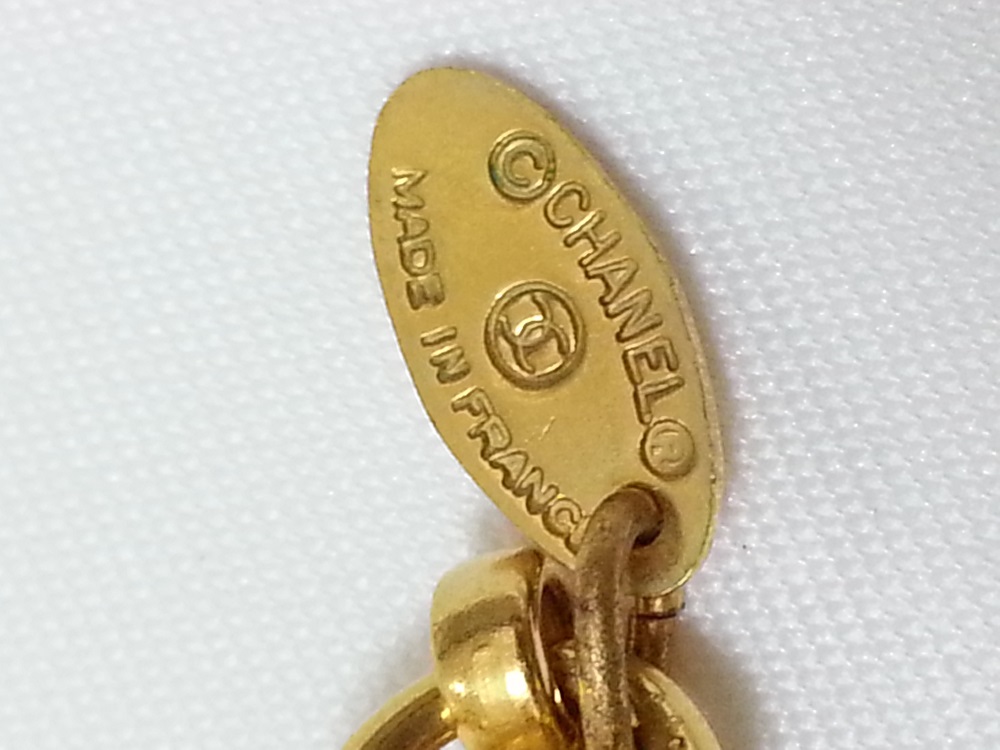 1980s to 1990s
There are only collection 23 to 29 on Chanel vintage costume jewelry. Some jewelry produced during this period of time had the year of production engraved on the plaque.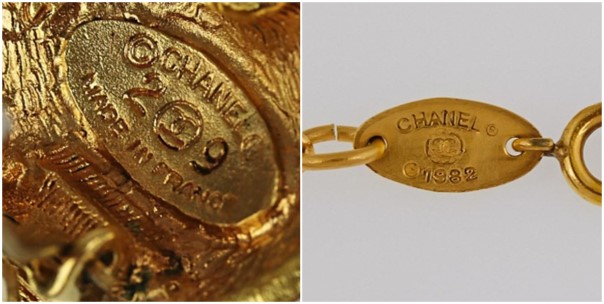 1990s to Present
Dating format presented as year of production + season code. E.g.:
96P means seasonal jewelry produced in year 1996 spring.
06A means seasonal jewelry produced in year 2006 autumn.
2010s to Present
Many but not all jewelry produced from year 2010 and onwards come with dating format alphabet + year of production + season code. Alphabet A, B, C, D, E, F, I, L and P before year of production were observed. E.g.:
C11V means jewelry under continuous line (continuous code V) produced in year 2011.
A13C means jewelry under cruise line (season code C) produced in year 2013.
The table below shows the dating format I have observed so far. It will be updated quite regularly. It is by no means absolute or intended to mislead the readers.
Attention: The internal data of table "23" is corrupted!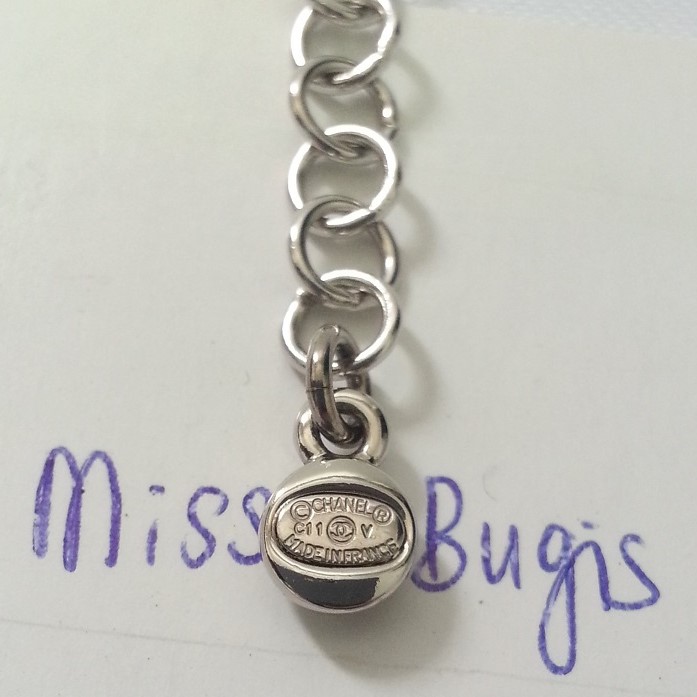 Endnote
Chanel plaques can fall off or stamping marks can faded due to wear and tear. However, that does not make it less authentic, just like a Chanel handbag with missing hologram sticker.
Chanel costume jewelry is feminine, classic and can withstand the test of time and thus it is a value-for-money investment. One does not have to own a lot and dress up like a Christmas tree to be noticed at a party but can choose to look simple and yet elegant.
Lastly, wishing every Singaporean reader who is reading this post today a Happy 55th National Day! I am finally done with this post which took me much longer than expected to complete. It is time to work on the next article again 🙂
Last updated on February 1, 2021.