Ex-Libris Atlantis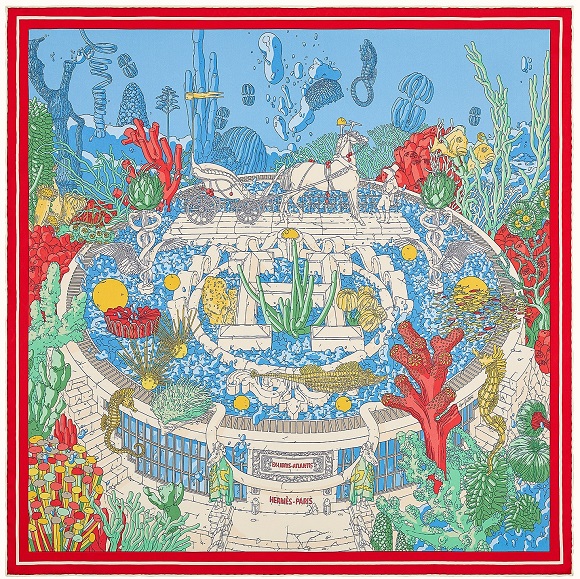 Scarf title: Ex-Libris Atlantis
Dimension: 70 x 70cm
Artist name: Ugo Gattoni
Year of issue:
Collection: Spring/Summer 2021
Feature: Sea animal, coral, building, horse, carriages
Material: 100% silk
Product reference: H983571S
Colourway number: 08 (Bleu Océan/Vert/Rouge)
Hermes retail price: EUR285 (SGD500), year 2021
Estimated resale value:
Image credit: Hermes
The Story Behind

An ex-libris refers to a stamp or plate in a book that identifies its owner. Bibliophile Émile-Maurice Hermès chose a drawing by Alfred de Dreux (1810-1860) from his collection to be his ex-libris in 1923. The famous Duc attelé, groom à l'attente has since become the emblem of the house. The subjects are transported to an undersea sanctuary by the hand of Ugo Gattoni, who is fascinated by ancient and monumental architecture. Seahorses and corals populate this fantastical building and infuse it with legends.

Hermes
The estimated resale value is just a rough approximation. The resale values can be greatly differ depending on the (limited edition) design, condition, colourway, material and rarity. Eventually, the deal price is the result of agreed price between a willing buyer and seller.
Colourway