Les Coupes Tattoo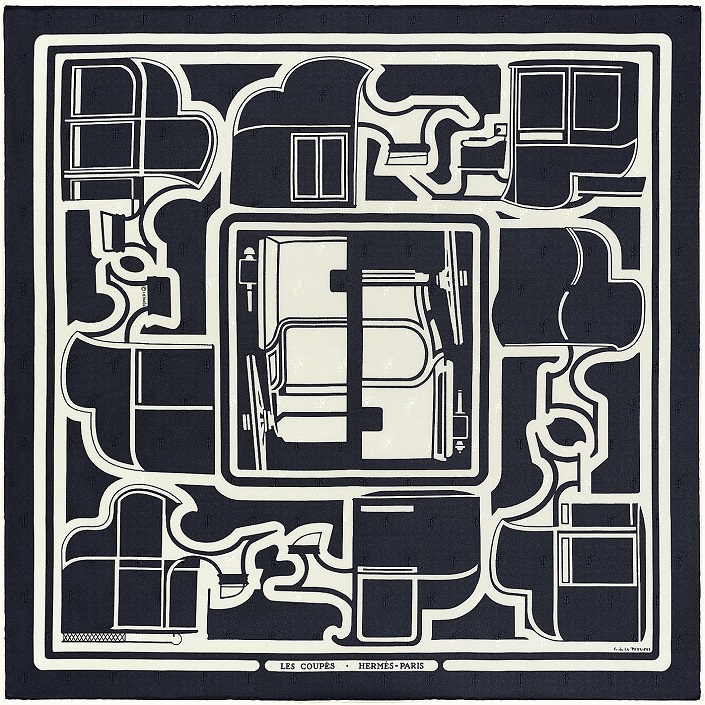 Scarf title: Les Coupes Tattoo
Dimension: 70 x 70cm
Artist name: Francoise de La Perriere
Year of issue:
Collection: Spring/Summer 2019
Feature: Equestrian carriage
Material: 100% Quadrige silk
Product reference: H973341S
Colourway number: 08 (Bleu Noir/Blanc)
Hermes retail price: USD325 (SGD429), year 2021
Estimated resale value:
Image credit: Hermes
The Story Behind

The Petit Coupé de ville is depicted in a 19th century equestrian carriage catalog, with one horse and a servant near the coachman; the Coupé de Poste, seated behind and safe in front; the Coupé d'Orsay, launched by a style icon; the Comte d'Orsay, the Coupé Carré, the Coupé à caisse ronde, and more. In the late 19th century, the first motor carriages simply replaced the horse with an electric battery, but kept the same undercarriage for passengers. In June 1898, the Automobile Club of France organized a motor cab show. First released in 1970, the Les Coupés scarf is a composition of the fronts and sides of different carriages. It looks like a child's puzzle to be taken apart and put back together. Very simple flat colors and shapes lend an almost abstract feel to this perfectly balanced composition. For this collection, the graphic aspect is further enhanced in a two-tone variation.

Hermes
The estimated resale value is just a rough approximation. The resale values can be greatly differ depending on the (limited edition) design, condition, colourway, material and rarity. Eventually, the deal price is the result of agreed price between a willing buyer and seller.
Colourway