Monsieur ET Madame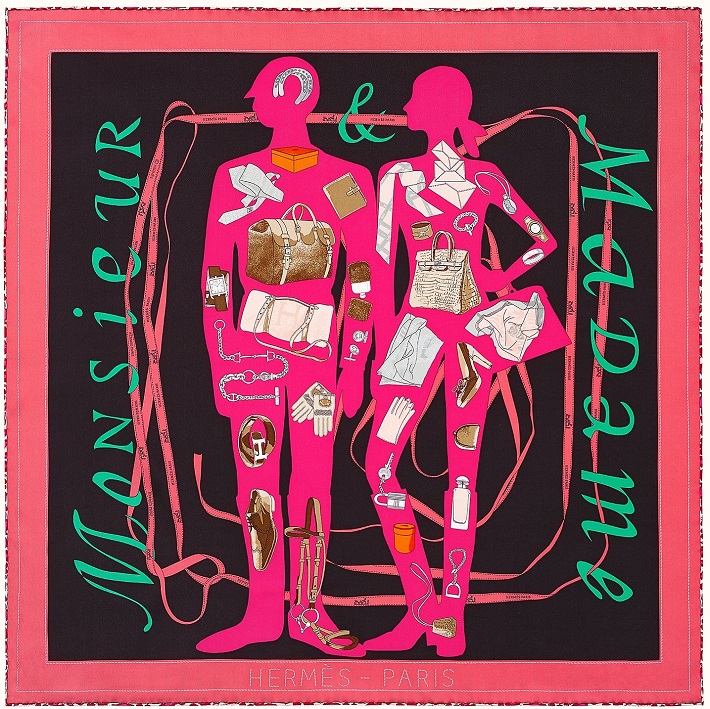 Scarf title: Monsieur ET Madame
Dimension: 70 x 70cm
Artist name: Bali Barret
Year of issue:
Collection: Fall/Winter 2020
Feature: Silhouette, Hermes bag, jewelry, clothing, bridles
Material: 100% silk
Product reference: H982355S
Colourway number: 05 (Rose/Noir/Vert)
Hermes retail price: SGD500, year 2021
Estimated resale value:
Image credit: Hermes
The Story Behind

Within a saddle-stitched leather frame, the silhouette of a couple forms a curious radiograph inscribed in a Farandole de Bolduc. Monsieur and Madame are rich in treasures, creations of the House: Chaine d'Ancre bracelet, Harnais watch, Birkin and Twilly bag… for Madame. Cape Cod watch, travel bag, H belt and oxford among others for Monsieur. A bridle on his rider's boot recalls his equestrian activities. Bali Barret was inspired by old Hermes advertisements, reviving the happy atmosphere of the 1930s.

Hermes
The estimated resale value is just a rough approximation. The resale values can be greatly differ depending on the (limited edition) design, condition, colourway, material and rarity. Eventually, the deal price is the result of agreed price between a willing buyer and seller.
Colourway