Cheval de Fete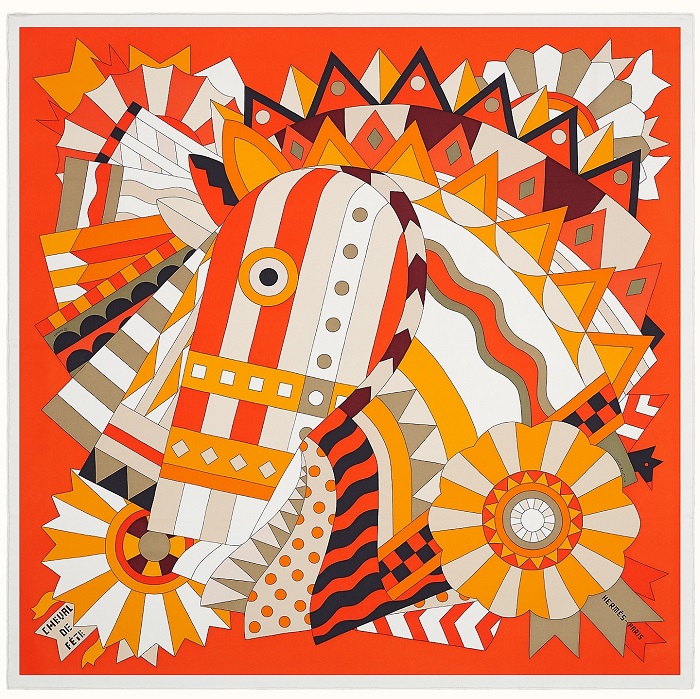 Scarf title: Cheval de Fete
Dimension: 90 x 90cm
Artist name: Jan Bajtlik
Year of issue:
Collection: Spring/Summer 2021
Feature: Horse, rosette, ribbon
Material: 100% silk
Product reference: H003748S
Colourway number: 04 (Orange/Brun/Kaki)
Hermes retail price: SGD680, year 2021
Estimated resale value:
Image credit: Hermes
The Story Behind

This design by Jan Bajtlik joyfully pays tribute to the posters of the Polish School from the 1950s to the 1970s. The artists of Warsaw broke with the era's conventions to illustrate films, plays, concerts and exhibitions. More than just a question of drawing the eye, they sought to harness the art of detail through the use of simple lines and emblematic figures. Rosettes, ribbons and geometric patterns recall the power of these creations. The mischievous face of Kluska, the designer's dog, makes an appearance on the right of the composition.

Hermes
The estimated resale value is just a rough approximation. The resale values can be greatly differ depending on the (limited edition) design, condition, colourway, material and rarity. Eventually, the deal price is the result of agreed price between a willing buyer and seller.
Colourway