Garde-Robe Pop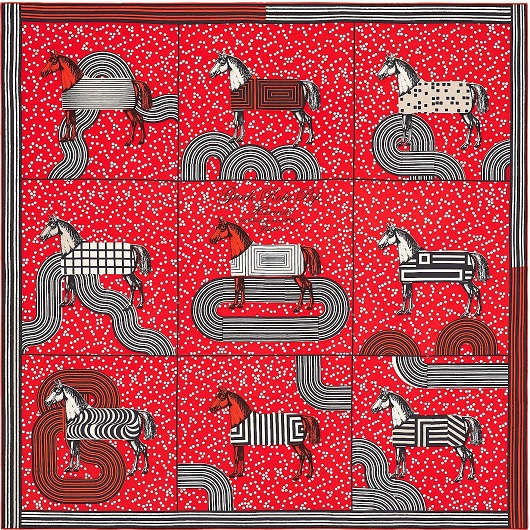 Scarf title: Garde-Robe Pop
Dimension: 90 x 90cm
Artist name: Gianpaolo Pagni
Year of issue:
Collection: Fall/Winter 2019
Feature: Horse, horse blanket
Material: 100% silk
Product reference: H003363S
Colourway number: 02 (Rouge Vif/Noir/Creme)
Hermes retail price: USD435 (SGD680), year 2021
Estimated resale value: USD415 (SGD558), 1stDibs. Price check done on 4 April 2021.
Image credit: Hermes
The Story Behind

The Émile Hermès collection includes numerous illustrated catalogues from the 19th century that were published by harness-makers and manufacturers of equestrian equipment to present their goods all over the world. Gianpaolo Pagni has chosen one such album as the inspiration for this collection of horse blankets. Using his renowned block-printing technique, he dresses the horses in a lively array of colors and motifs. The result is a brand new equestrian wardrobe of pop art patterns. As Pagni declares, the horses are "catwalk-ready!"

Hermes
The estimated resale value is just a rough approximation. The resale values can be greatly differ depending on the (limited edition) design, condition, colourway, material and rarity. Eventually, the deal price is the result of agreed price between a willing buyer and seller.
Colourway