The Three Graces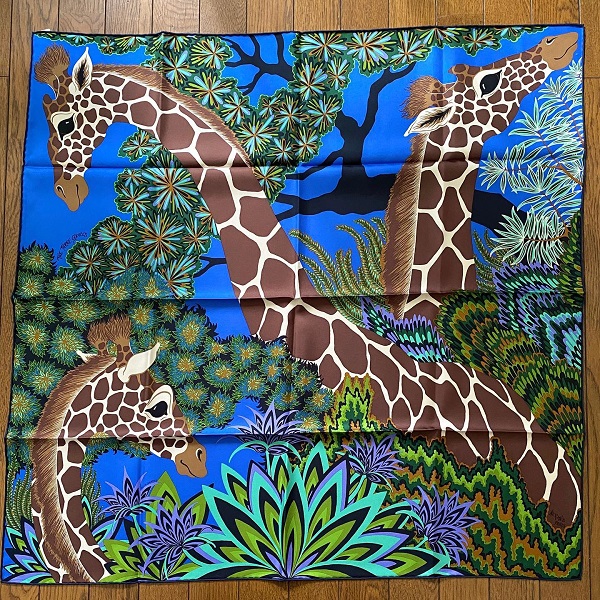 Scarf title: The Three Graces
Dimension: 90 x 90cm
Artist name: Alice Shirley
Year of issue:
Collection: Spring/Summer 2020
Feature: Giraffe
Material: 100% silk
Product reference: 003441S
Colourway number: 17 (Bleu Vif/Marron/Vert)
Estimated Hermes retail price: USD480 (SGD653), year 2022
Estimated resale value: USD525 (SGD714), FASHIONPHILE. Price check done on 6 March 2022.
Image credit: yocco_7890 (Instagram)
The Story Behind

It was during a trip to South Africa that Alice Shirley was lucky enough to spot a giraffe, then two, then three, concealed behind the acacia tree on which they were feeding. Giraffes are the tallest animals on earth and their delicacy is immeasurable. Their movement is sweeping and elegant. They have panoramic distance vision and sleep very little, often standing. They prune the trees by feeding, and disperse seeds by moving around, living in perfect harmony with their environment. Conscious of the beauty and balance of nature, the house of Hermes pays homage to these graceful and poetic giants.

Hermes
The estimated resale value is just a rough approximation. The resale values can be greatly differ depending on the (limited edition) design, condition, colourway, material and rarity. Eventually, the deal price is the result of agreed price between a willing buyer and seller.