Zouaves et Dragons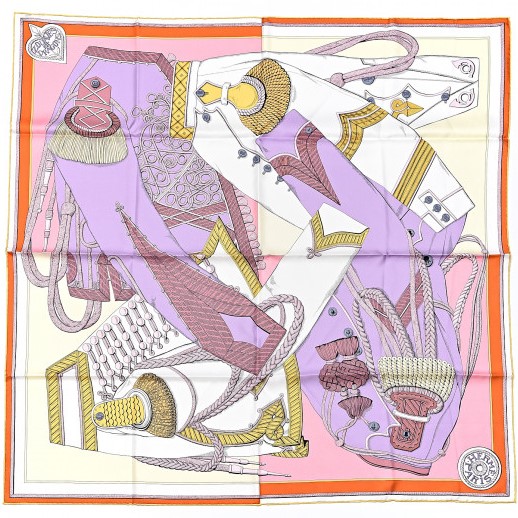 Scarf title: Zouaves et Dragons
Dimension: 90 x 90cm
Artist name: Virginie Jamin
Year of issue:
Collection: Spring/Summer 2019
Feature: Military outfits
Material: 100% silk
Product reference:
Colourway number:
Estimated Hermes retail price: SGD585, year 2021
Estimated resale value: USD594 (SGD798), 1stDibs. Price check done on 19 June 2021.
Image credit: FASHIONPHILE
The Story Behind

While looking through the pages of an album of 19th century military costumes in the Émile Hermès collection, Virginie Jamin was struck by the power of these designs. The scarf receives its name from outfits of French light infantry units in Africa called Zouaves, and cavalry soldiers fighting on foot or horseback known as Dragons. Adorned with trimmings, stripes, braids and silk embroidery, these costumes seemed to come to life. "I seemed to hear their conversation" she says, "I could see (…) a singular link, like the one that unites the dancers of a troupe". A dream that inspired this composition like a choreographed piece with a swirl of jackets.

Hermes
The estimated resale value is just a rough approximation. The resale values can be greatly differ depending on the (limited edition) design, condition, colourway, material and rarity. Eventually, the deal price is the result of agreed price between a willing buyer and seller.
Colourway
Wash