Scarf Tutorial #6: Hermes Silk Scarf Criss-Cross #2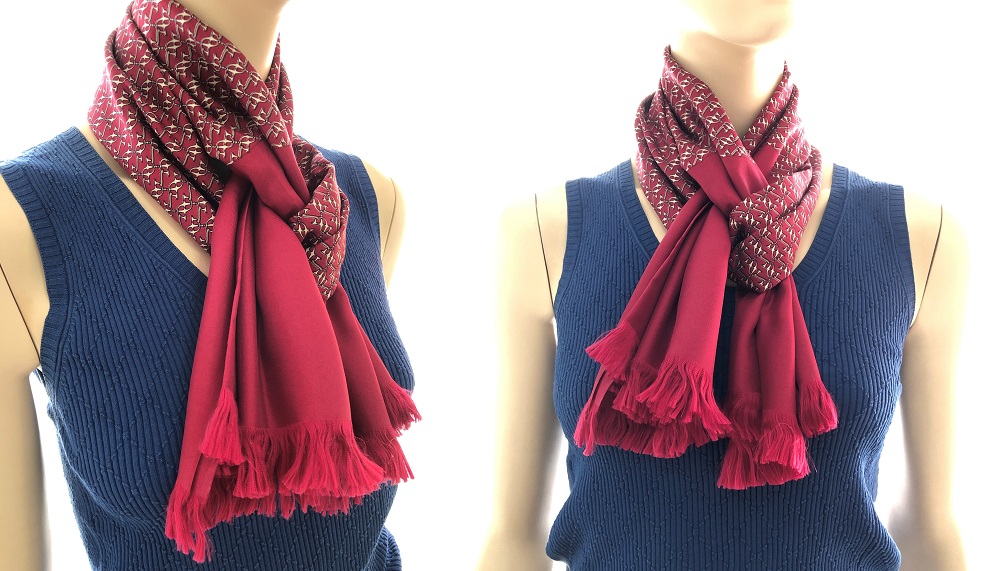 A small tweak on the steps can create various criss-cross scarf knots. Instead of folding the stole into half to make Criss-Cross #1, Hermes Criss-Cross #2 is made by looping the silk scarf around your neck loosely.
If you are using a 90cm square scarf, you can make a small version of this knot. The 70cm square scarf is too short for this Criss-Cross #2. Unless you have two 70cm square scarves, then you can explore making this knot by combining the scarves with a double-knot. It should work and if it truly work wonderfully, do share your finding with the readers here. I have tried combining two 90cm square scarves for this knot, the result was great. I will make a tutorial for that so please stay tuned.
Now, let's start making the knot. In the picture demonstration, the green symbol represents one side (side A) of the scarf and the pink symbol represents another side (side B). Steps:
Loop the scarf loosely around your neck.
Pass side B under side A and over the loop.
Adjust the knot.
How is it? Too easy to make? Feel cozy? Yes, it is. Enjoy the warmth and snuggling sensation the Hermes scarf brings to you.