Paisley from Paisley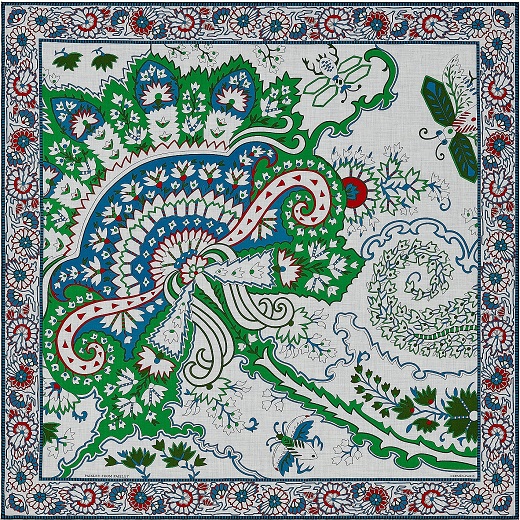 Scarf title: Paisley from Paisley
Dimension: 140 x 140cm
Artist name: NA
Year of issue:
Collection: Spring/Summer 2019
Feature: Paisley
Material: 70% cashmere, 30% silk
Product reference: H243346S
Colourway number: 13 (Gris Chine/Vert/Rouge)
Hermes retail price: USD1,100 (SGD1,465), year 2021
Estimated resale value: USD1,150 (SGD1,532), 1stDibs. Price check done on 16 May 2021.
Image credit: Hermes
The Story Behind

Where does the name paisley come from? The paisley motif, originally from Persia, is a symbol of an imaginary flower representing love. It is found in India, China and the Middle East. Over the centuries its outlines have been simplified and stylized. Paisley, a town a couple of miles outside Glasgow, Scotland, was a large textile manufacturing center from the late 17th century. When the famous motif invaded the courts of Europe and spread to the upper classes, the town became a leading supplier in Britain, eventually lending its name to the paisley pattern. This booming industry has since died down, although a museum still attests to the history. In 2016, Hermès partnered with Paisley Museum, selecting this design from the many books of samples held in the collections. The motif has been enlarged and reworked to create the Paisley from Paisley scarf, a tribute to the city, its fabrics and its talented designers.

Hermes
The estimated resale value is just a rough approximation. The resale values can be greatly differ depending on the (limited edition) design, condition, colourway, material and rarity. Eventually, the deal price is the result of agreed price between a willing buyer and seller.
Colourway