Les Bassets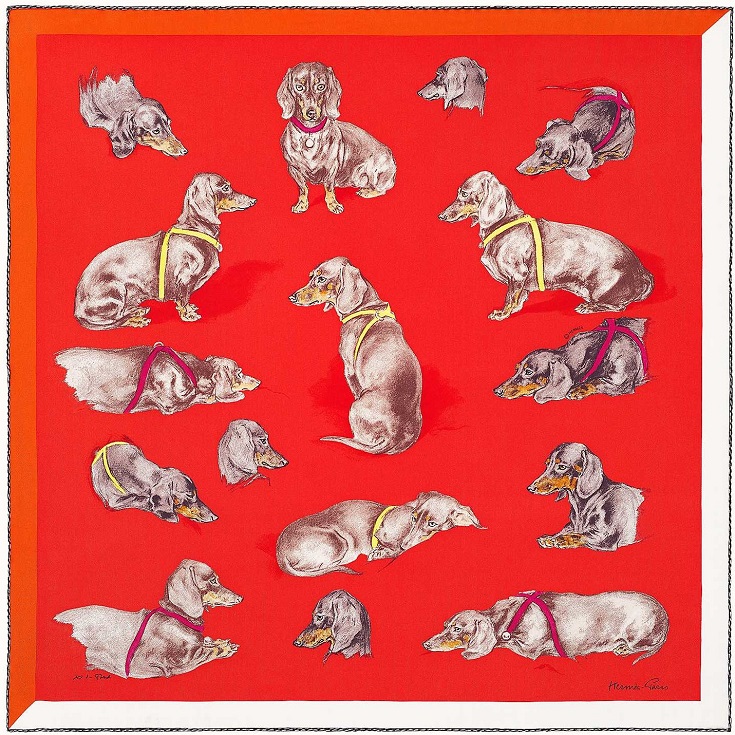 Scarf title: Les Bassets
Dimension: 70 x 70cm
Artist name: Xavier de Poret
Year of issue:
Collection: Fall/Winter 2020
Feature: Dog
Material: 100% silk
Product reference: H983588S
Colourway number: 08
Hermes retail price: EUR285 (SGD500), year 2020
Estimated resale value:
Image credit: Hermes
The Story Behind

Renowned animal painter and worldly portraitist, Xavier de Poret (1897-1975) is famous for his hunting scenes and studies of horses and birds. At the heart of a scarf released for the first time in 1956, calm and pensive dachshund hounds are designed in different postures. A hunting dog responsible for retrieving game, the dachshund is known for its intelligence and loyalty. The artist has affectionately sketched his furry friend, whose depth of vision is enhanced by a plain background.

Hermes
The estimated resale value is just a rough approximation. The resale values can be greatly differ depending on the (limited edition) design, condition, colourway, material and rarity. Eventually, the deal price is the result of agreed price between a willing buyer and seller.
Colourway
Studded