Swinging Saint-Germain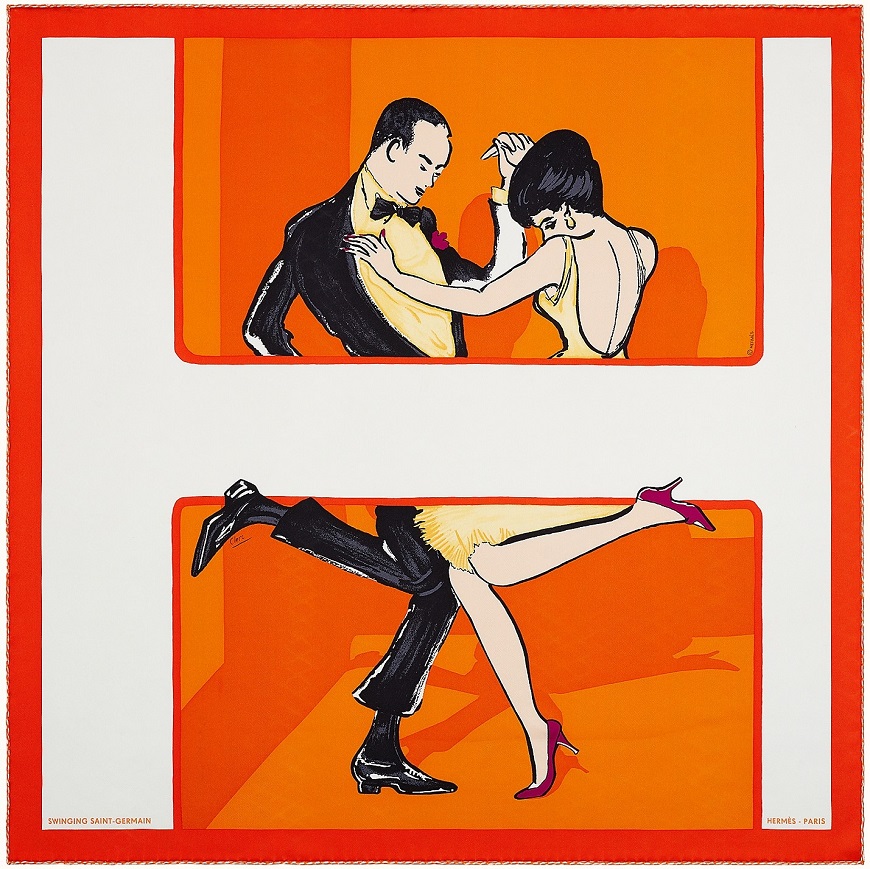 Scarf title: Swinging Saint-Germain
Dimension: 70 x 70cm
Artist name: Jean-Louis Clerc
Year of issue:
Collection: Reissue Spring/Summer 2021
Feature: Dancer
Material: 100% silk
Product reference: H982411S
Colourway number: 15 (Orange/Blanc/Corail)
Hermes retail price: USD315 (SGD500), year 2021
Estimated resale value: USD268 (SGD355), Tradesy. Price check done on 21 February 2021.
Image credit: Hermes
The Story Behind

In the 1950s, the Saint-Germain-des-Prés district was a hub of Parisian cultural and intellectual life. Writers, actors and philosophers such as Jean-Paul Sartre and Simone de Beauvoir came together to debate and discuss ideas. The singers Juliette Greco and Charles Aznavour performed here. In its cafés and clubs, the whole city danced to the sound of jazz. It was at this time that Jean-Louis Clerc designed this pair of dancers for Hermès, like a quick sketch captured mid-swing. Embodying elegance, the duo radiates incredible vitality.

Hermes
The estimated resale value is just a rough approximation. The resale values can be greatly differ depending on the (limited edition) design, condition, colourway, material and rarity. Eventually, the deal price is the result of agreed price between a willing buyer and seller.
Colourway