Brides de Gala En Finesse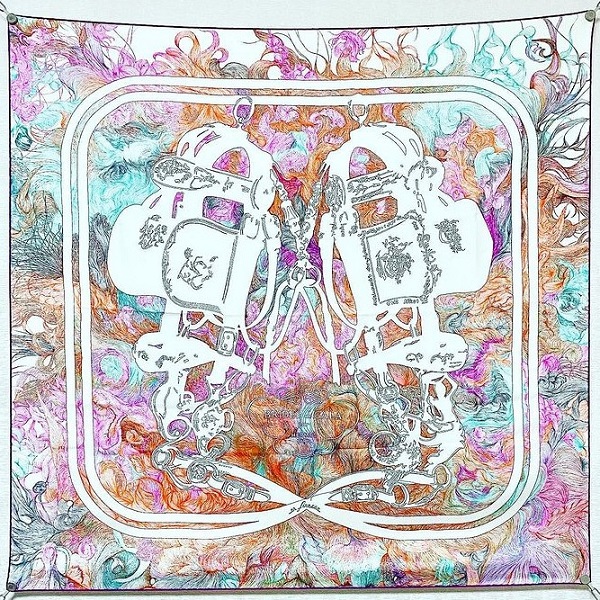 Scarf title: Brides de Gala En Finesse
Dimension: 90 x 90cm
Artist name: Florence Manlik and Hugo Grygkar
Year of issue: 2011
Collection:
Feature: Bridles
Material: 100% silk
Product reference: 002628S
Colourway number: 03 (Fuchsia/Blanc/Orange)
Estimated Hermes retail price: EUR350 (SGD563)
Estimated resale value: SEK2,000 (SGD320), 15 January 2017, Bukowskis
Image credit: yocco_7890 (Instagram)
The most famous of the carrés has known a lot of metamor phoses since its creation in 1956 by Hugo Grygkar. "En finesse", this time, like a negative, Brides de Gala detaches itself on a slender framework, traced by a sure hand, freely and delicately, guided by the spirit of the moment. Installed at her table and armed with fine pens, the designer traces her world of the instant, line by line: a complex interweaving of scrolls, plant life, expressive luxuriance. Invaded by these tenuous, multiplying lines, space takes on life, modelling itself in volumes, symbolising the vital proliferation of all things. Countless veins, minuscule capillaries in which circulate sap, sense and energy itself.

Hermes
The estimated resale value is just a rough approximation. The resale values can be greatly differ depending on the (limited edition) design, condition, colourway, material and rarity. Eventually, the deal price is the result of agreed price between a willing buyer and seller.
Colourway