La Danse des Chevaux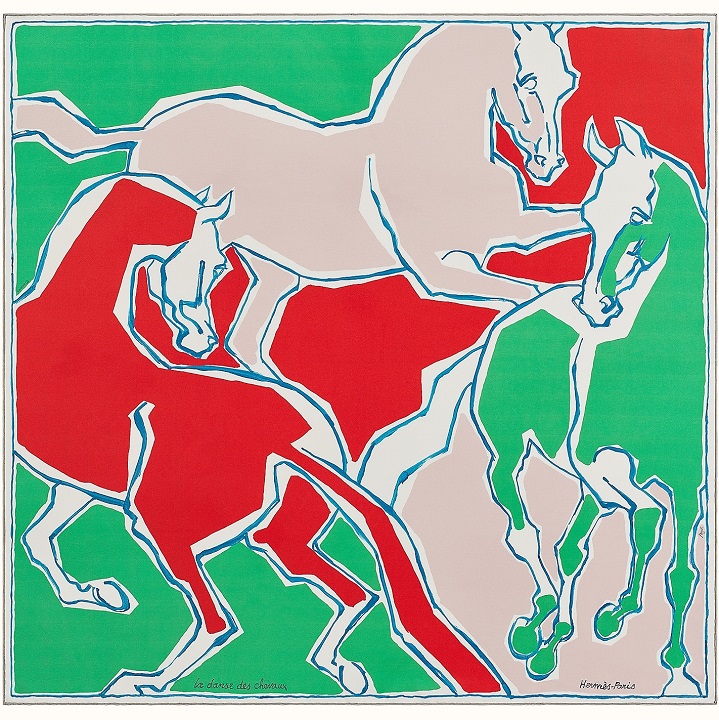 Scarf title: La Danse des Chevaux
Dimension: 90 x 90cm
Artist name: Jean-Louis Sauvat
Year of issue:
Collection: Spring/Summer 2021
Feature: Horse
Material: 100% silk
Product reference: H903576S
Colourway number: 06 (Vert/Rouge/Rose Poudre)
Hermes retail price: SGD910, year 2021
Estimated resale value:
Image credit: Hermes
The first scarf printed on both sides! This innovative technique provides two colorful scarves in one.
The Story Behind

A renowned French sculptor and cartoonist, Jean-Louis Sauvat is also an experienced rider who never ceases to celebrate the elegance of horses, his lifelong companions. His passion for dressage of the highest standard – intended for adult horses – is illustrated in this graceful round. Three proud mounts circle in a rhythmic trot, rebounding nimbly. Double-sided printing adds a fabulous contrast effect to the dynamic lines of this scarf.

Hermes
The estimated resale value is just a rough approximation. The resale values can be greatly differ depending on the (limited edition) design, condition, colourway, material and rarity. Eventually, the deal price is the result of agreed price between a willing buyer and seller.
Colourway
(men)
(women)