La Marche du Zambeze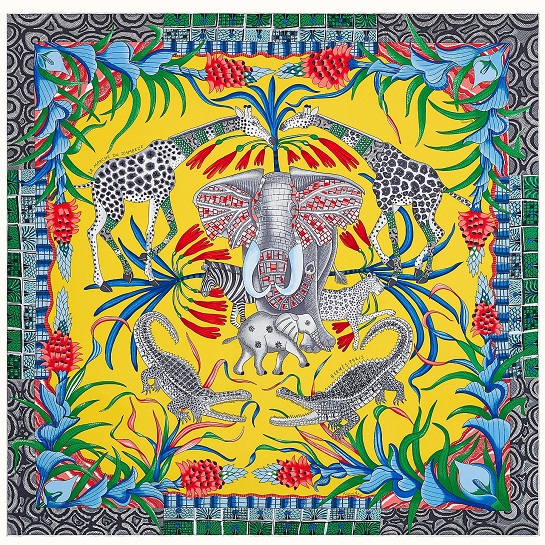 Scarf title: La Marche du Zambeze
Dimension: 90 x 90cm
Artist name: Ardmore Artists
Year of issue:
Collection: Spring/Summer 2016 (Reissue Spring/Summer 2021)
Feature: Elephant, giraffes, crocodiles, zebra, leopard
Material: 100% silk
Product reference: H002987S
Colourway number: 19 (Jaune Vif/Rouge/Bleu)
Hermes retail price: SGD680, year 2021
Estimated resale value:
Image credit: Hermes
The Story Behind

A majestic elephant emerges from the center of this scarf, symbolizing family and strength. Giraffes, crocodiles, a zebra and a leopard from the savannahs and swamps along the Zambezi River are gathered around it. Native flora combined with patterns evoking pythons and crocodiles border the composition. La Marche du Zambèze marks the beginning of a partnership between Hermès and Ardmore, a collective of Zulu, Zimbabwean and Sotho ceramic artists. Established in 1985 by Fée Halsted in KwaZulu-Natal, South Africa, it now comprises seventy artists whose signature style provides a fresh take on traditional art.

Hermes
The estimated resale value is just a rough approximation. The resale values can be greatly differ depending on the (limited edition) design, condition, colourway, material and rarity. Eventually, the deal price is the result of agreed price between a willing buyer and seller.
Colourway