L'Art du Sarasa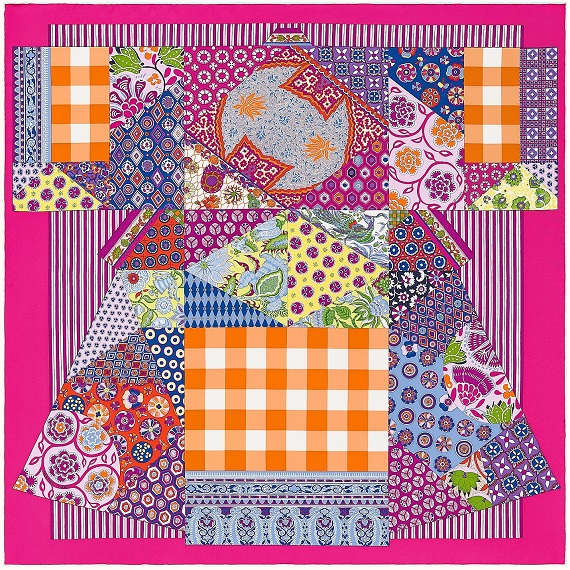 Scarf title: L'Art du Sarasa
Dimension: 90 x 90cm
Artist name: Aline Honore
Year of issue:
Collection: Spring/Summer 2019
Feature: Kimono, patchwork
Material: 100% silk
Product reference: H003273S
Colourway number: 06
Hermes retail price: EUR385 (SGD576), year 2021
Estimated resale value: USD397 (SGD526), Tradesy. Price check done on 5 June 2021.
Image credit: Hermes
The Story Behind

Beginning in the 16th century and throughout the Edo period, which lasted from the early 17th to 19th centuries, Portuguese merchants exported Indian calicos, or textiles, to Japan. Geometric-shaped patterns in bright-colored cotton fabrics were in stark contrast to the indigo-colored hemp and cotton compositions inherent to Japan's textiles at the time. Sarasas, a term derived from the Portuguese word for calicos, rose in popularity and were soon produced by Japanese weavers. The weavers perpetuated the decorative style, incorporating their own ideas over time. Drawing inspiration from the history of these fabrics, Aline Honore created a sumptuous kimono, sewn together by a patchwork of motifs.

Hermes
The estimated resale value is just a rough approximation. The resale values can be greatly differ depending on the (limited edition) design, condition, colourway, material and rarity. Eventually, the deal price is the result of agreed price between a willing buyer and seller.
Colourway