L'Instruction du Roy Bayadere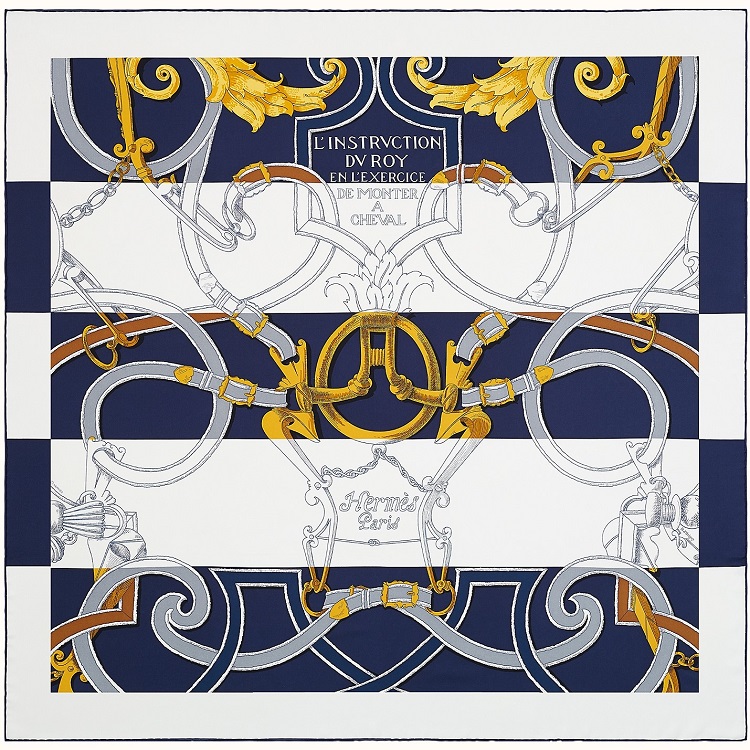 Scarf title: L'Instruction du Roy Bayadere
Dimension: 90 x 90cm
Artist name: Henri d'Origny
Year of issue:
Collection: Spring/Summer 2021
Feature: Rein, stripe
Material: 100% silk
Product reference: H003685S
Colourway number: 13 (Marine/Blanc/Or)
Hermes retail price: SGD680, year 2021
Estimated resale value:
Image credit: Hermes
The Story Behind

L'instruction du Roy en l'exercice de monter à cheval (instructing the King in the art of horse-riding) was the title given to the work by Antoine de Pluvinel, equerry to Louis XIII, King of France and King of Navarre. De Pluvinel understood, as early as the 17th century, that when training a horse, "kindness prevails over severity." He established a riding academy in Paris and wrote this book for the young king. It took the form of a dialogue and was illustrated with superb etchings by Crispijn de Passe. The book's final few plates notably describe the bits that he recommends. Henri d'Origny linked these bits to fabric reins with braided edges: curves and volutes create a decorative design ornamented with the scrollwork that was popular during the Grand Siècle. The design has been reworked in a bayadère version featuring both fine and wide block stripes.

Hermes
The estimated resale value is just a rough approximation. The resale values can be greatly differ depending on the (limited edition) design, condition, colourway, material and rarity. Eventually, the deal price is the result of agreed price between a willing buyer and seller.
Colourway