Louis Vuitton Handbag Clasps
Louis Vuitton hardware on its handbags are fascinating. It is not about completely new inventions or designs, it is all about heritage. Many of the clasps we see on the latest collections today can also be seen on vintage handbags and trunks that were created a century ago, with an infusion of little new elements. It has been more than a week since my last blog post and I am excited to share with you the various Louis Vuitton handbag clasps today.
The House's capability of upholding the brand and its historical value is what I admire the most. Although the undesired outcome (for the House) of creating durable, classic and gorgeous bags with extraordinary craftsmanship is bringing up the pre-loved market, this phenomenon also wonderfully testified that Louis Vuitton's creations are timeless.
Let's appreciate the images here like how we enjoy watching the Hermes scarves. Photos courtesy of Louis Vuitton; Yoogi's Closet and The RealReal (for vintage).
Circle Signature
Louis Vuitton also calls this logo design as LV Circle. The new design on the left which can be seen on the flap and strap of Pont 9 handbag is a 1930s archive logo reinterpreted by Nicolas Ghesquiere, the Artistic Director of Women's Collections.
The mini circle signature on a vintage Montaigne clutch bag (image on the right) made in year 1991 was much smaller in size compared to the left one. Both were similar in a different way. Isn't it fascinating?
---
Closure System With Lock
Click here to go back to list.
---
Magnetic Signature Padlock Closure
---
Magnetic V Signature Closure
The image on the right is V signature embellished with shimmering Swarovski® crystals on Louis Vuitton Night Box, a feminine, structured and chic evening clutch bag with chain in silvertone hardware (54.1cm chain drop).
Click here to go back to list.
---
S-Lock Closure
This form of clasp looks a little bit complicated to operate but in fact it does not work as hard as it seem to be. Simply push the button at the left toward the centre to unlock.
---
Signature Buckle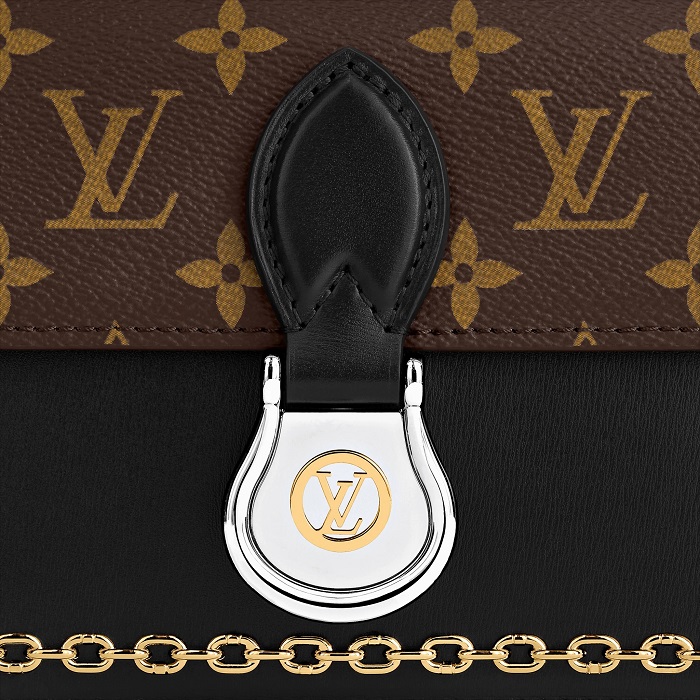 Click here to go back to list.
---
Signature Lock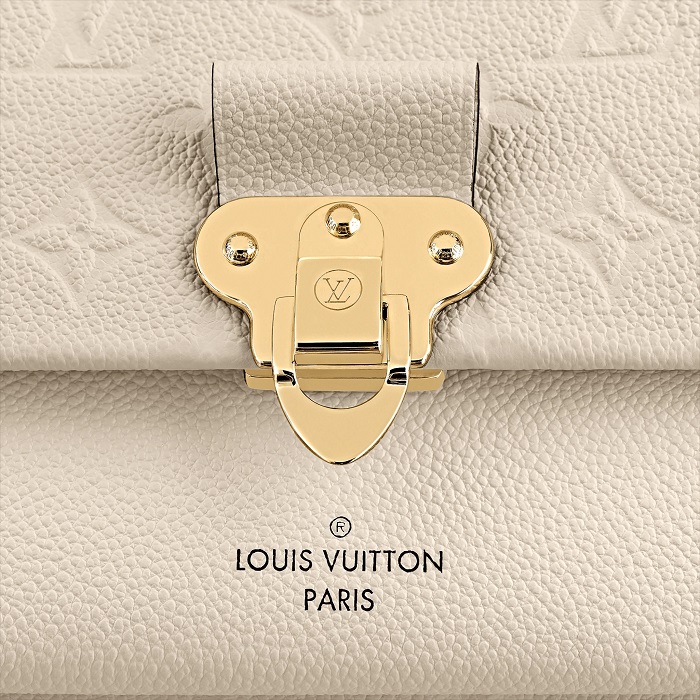 ---
Signature Tuck-Lock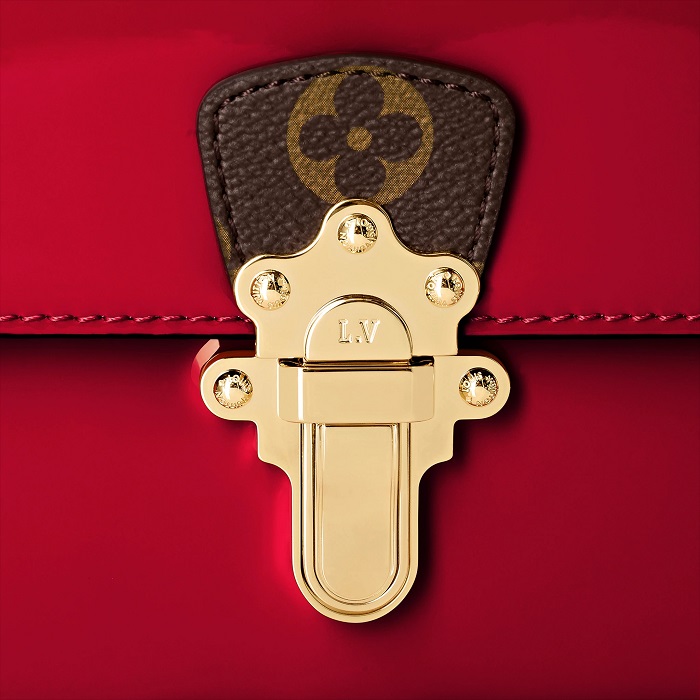 Click here to go back to list.
---
Signature Turnlock
Image below featuring signature turnlock on a Lockme bag.
---
Signature Twist-Lock
The signature twist-lock made me think of safe box – in order to unlock, one has to turn the dial. As the name suggested, you need to twist the front V to overlap with the rear V to unlock. This is the fun part you can get from Louis Vuitton handbags that were adorned with twist-locks.
---
Others
For Louis Vuitton fanatics who prefer understated hardware, they may fall in love with teeny tiny and delicate clasps like the below magnetic closure with leather strip.
Click here to go back to list.
 I hope you enjoy this lookbook. Head to my another blog, Different Types of Louis Vuitton Leather to discover more.
Last updated on March 5, 2021.