The Attributes of Vinyl and Patent Leather
What Is Vinyl and Patent Leather?
Vinyl coated fabric is used to create artificial leather. It costs cheaper compared to leather and is a good alternative for those who do not use animal products.
Patent leather is genuine leather coated with a very thin layer of lacquer, plastics or synthetic resin. Enamel leather is a less commonly use term to refer to patent leather. I find this video is useful to demonstrate how patent leather is made.
The Benefits and Shortfalls
Both vinyl coated fabric, clear vinyl and patent leather have a glossy finish. Luxury fashion brands such as Chanel and Louis Vuitton love to use these materials in their handbags and accessories such as hats, shoes and bracelets.
The benefit of using vinyl and patent leather is that they are water resistant and can improve the durability of leather. They also anti-mildew (mould) and can better prevent scratches compared to natural leather such as untreated cowhide or lambskin/nappa. With the mirror-like finishing, the handbags/accessories also look stunningly attractive and contemporary.
However, there are also a few shortfalls that come along with vinyl and patent leather. Light colour patent leather is prone to colour migration due to abrasion and discolouration especially when exposed to excessive sunlight.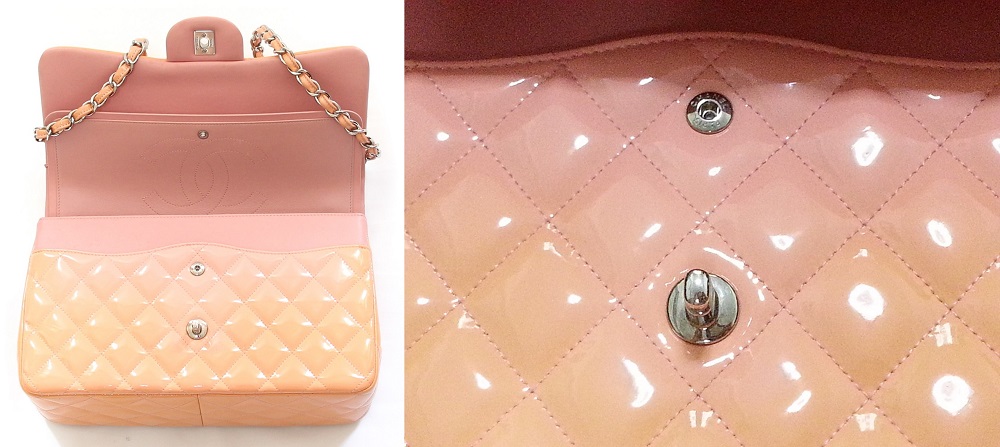 View the product details of this Chanel Orange Quilted Patent Leather Classic Jumbo Double Flap Bag here. The discolouring does not make it looks less like a piece of gem.
The Care Instructions
In hot country like Singapore, vinyl and patent leather might even develop sticky feeling over time. In an accelerated unfortunate event, patent leather might even turn yellowish (ouch!). Thus, it is recommended that you store your precious designer handbags and accessories in a cool dry place. Wear light colour clothing whenever you carry your light colour patent leather handbag to prevent colour transfer. If this precautionary and preventive care measures create unneccessary stress to you, do not go for light colour, go for only black patent leather. In very rare case, colour transfer from dust bag to patent leather might happen too. To be safe, use light or white cotton fabric to store your patent leather goods. You can make the dust bag using recycled material such as your old pillow case or bed sheet.
Similar to genuine leather, soft vinyl coated fabric and patent leather can winkle due to improper storage and regular wear and tear. It is important to keep some space in between your items when storing them to avoid possible storage damages like press mark, sticking or colour migration. Stuffing is recommended for handbags to keep their shape well, regardless what material they are made of.
In summary, you need to:
Store items in cool dry place.
Avoid pro-long exposure to sunlight.
Wear light colour clothing for light colour vinyl or patent leather handbags.
Use light colour or white cotton dust bag.
Keep space in between your items when storing.
Use stuffing.
As a conclusion, this post does not mean to intimidate you from purchasing designer goods made of vinyl or patent leather. If you take good care of them, those gems can actually last for many years. If they are what you are looking for to add varieties to your collection, go for it!
Postscript: Below 2 bags are the featured image for this blog post. They are no longer available for sales. The Cartier patent leather backpack still holds up well despite its vintage condition.
Chanel Black Coco Cabas XL Bag in vinyl coated fabric.
Cartier Happy Birthday Backpack in enamel/patent leather.