Peuple du Vent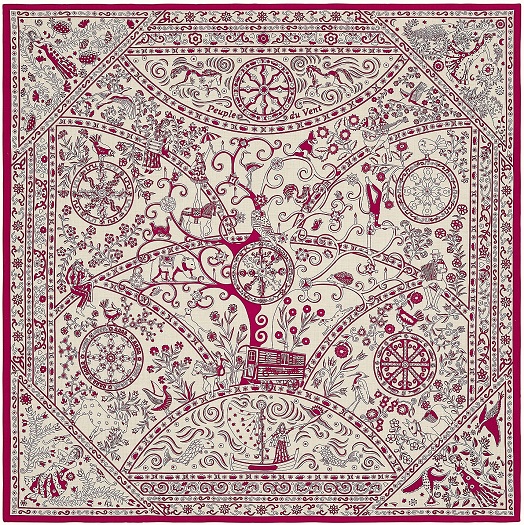 Scarf title: Peuple du Vent
Dimension: 140 x 140cm
Artist name: Christine Henry
Year of issue: 2009
Collection: Reissue Fall 2014, Fall/Winter 2019
Feature: Musician, acrobat, dancer, animal, tree
Material: 65% cashmere, 35% silk
Product reference: H242502S
Colourway number: 45 (Naturel/Bordeaux)
Hermes retail price: USD1,100 (SGD1,497), year 2021
Estimated resale value: USD1,057.80 (SGD1,440), Tradesy. Price check done on 24 July 2021.
Image credit: Hermes
The Story Behind

The Roma or Romany people are eternal travelers, as free as the wind. Their legends celebrate nature and magic powers of talking to animals and reading palms. This scarf evokes the myths, beliefs and symbols of the Roma people. Musicians, tightrope walkers and animals come together under a tree of life surrounded by Roma dancers. The wheel is an omnipresent emblem – in caravan wheels and the wheel of fortune. A detail at the bottom of the scarf depicts the legend of Sara, the Black Madonna of the Roma people.

Hermes
The estimated resale value is just a rough approximation. The resale values can be greatly differ depending on the (limited edition) design, condition, colourway, material and rarity. Eventually, the deal price is the result of agreed price between a willing buyer and seller.
Colourway
90cm