Brides de Gala a Pois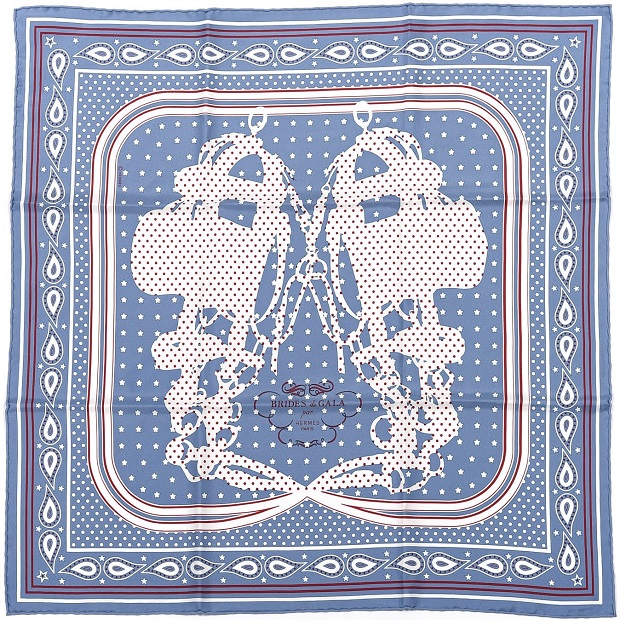 Scarf title: Brides de Gala a Pois
Dimension: 55 x 55cm
Artist name: Hugo Grygkar
Year of issue: 2018
Collection: Reissue Spring/Summer 2021
Feature: Bridles
Material: 100% silk
Product reference: H043264S
Colourway number: 11 (Bleu Ocean/Bordeaux/Blanc)
Hermes retail price: SGD330, year 2021
Estimated resale value: USD290 (SGD390), FASHIONPHILE. Price check done on 8 September 2021.
Image credit: FASHIONPHILE
The Story Behind

The house's iconic scarf, Brides de Gala, has been reinterpreted many times over the years. Endlessly revisited, but always instantly recognizable, the striking composition is the work of talented draughtsman Hugo Grygkar, who was himself inspired by the beauty of the original bridles depicted. One, belonging to the Mexican emperor Maximilian I, features figures of mermaids emerging from Horns of Plenty. The other is decorated with the elaborate arms of the Comtes de Ferronays. Today, the design is reworked as a bandana through a simple, graphic technique.

Hermes
The estimated resale value is just a rough approximation. The resale values can be greatly differ depending on the (limited edition) design, condition, colourway, material and rarity. Eventually, the deal price is the result of agreed price between a willing buyer and seller.
Colourway