Etriers Remix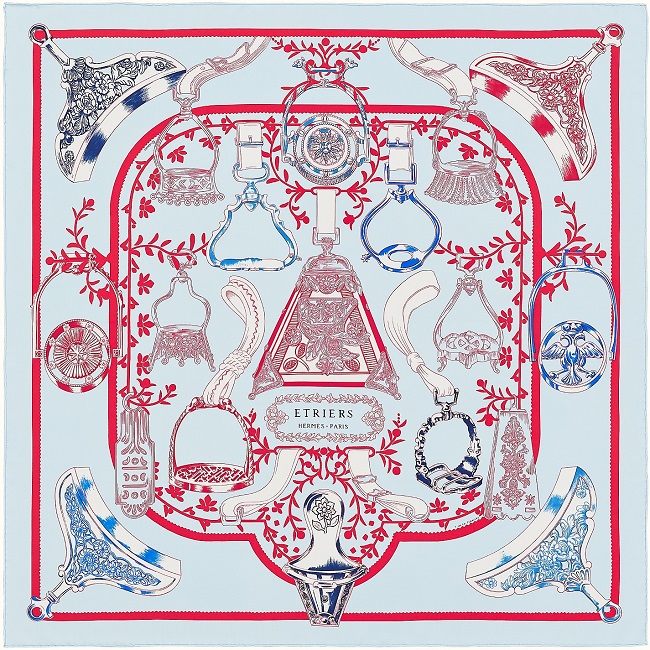 Scarf title: Etriers Remix
Dimension: 90 x 90cm
Artist name: Francoise de La Perriere
Year of issue:
Collection: Spring/Summer 2020
Feature: Equestrian harness, flower, star
Material: 100% silk
Product reference: H003502S
Colourway number: 11 (Ciel/Rouge/Blanc)
Hermes retail price: GBP355 (SGD680), year 2021
Estimated resale value: USD445.50 (SGD598), Tradesy. Price check done on 26 June 2021.
Image credit: Hermes
The Story Behind

Inspired by the Etrier Remix scarf design Françoise de La Perrière was inspired by the Émile Hermès collection, which features numerous elements of equestrian harnesses, to create Etriers. Their beauty reflects the infinite diversity of technical and aesthetic innovations over the ages and across borders. Highlighting a collection of stirrups from the 18th and 19th centuries, the artist takes us on a journey from South America to the Middle East via France and Spain. Designed for riding either astride or sidesaddle, the adornments gracing the stirrups are extremely refined. Finely wrought flowers, stars and mythical beasts make them as precious as jewelry.

Hermes
The estimated resale value is just a rough approximation. The resale values can be greatly differ depending on the (limited edition) design, condition, colourway, material and rarity. Eventually, the deal price is the result of agreed price between a willing buyer and seller.
Colourway
Double Scarf Stole