Voitures Exquises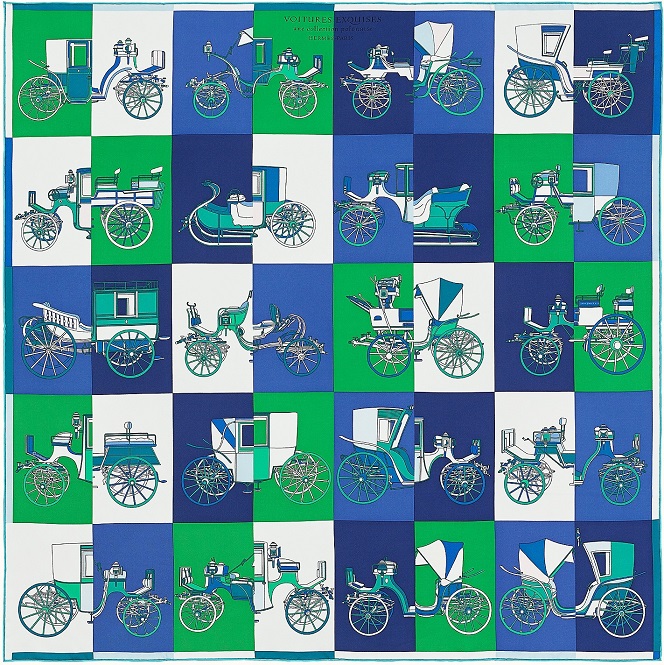 Scarf title: Voitures Exquises
Dimension: 90 x 90cm
Artist name: Jan Bajtlik
Year of issue:
Collection: Spring/Summer 2020
Feature: Horse-drawn carriage
Material: 100% silk
Product reference: H003429S
Colourway number: 08 (Marine/Vert/Blanc)
Hermes retail price: SGD680, year 2021
Estimated resale value:
Image credit: Hermes
The Story Behind

Located in Poland, in the city of the same name, Łancut castle has one of the most beautiful collections of horse-drawn carriages in Europe. Some of these carriages' harnesses were produced by the house of Hermes, which maintains close relations with the museum. Like many Poles, Jan Bajtlik has visited the castle many times since childhood. Having chosen twenty horse-drawn vehicles, the artist had fun cutting them in two and mixing up the halves as he pleased, like a game of exquisite corpse – or, in this case, exquisite carriages! Simply fold the scarf to join up the correct halves and reassemble the original vehicles.

Hermes
The estimated resale value is just a rough approximation. The resale values can be greatly differ depending on the (limited edition) design, condition, colourway, material and rarity. Eventually, the deal price is the result of agreed price between a willing buyer and seller.
Colourway