Hermes Stole and Muffler Size Guide
Hermes stole and muffler come in various rectangular sizes. On Hermes website, the term muffler is used on products that are narrower in width. And stole is used on products that are wider. See Hermes stole and muffler size guide below.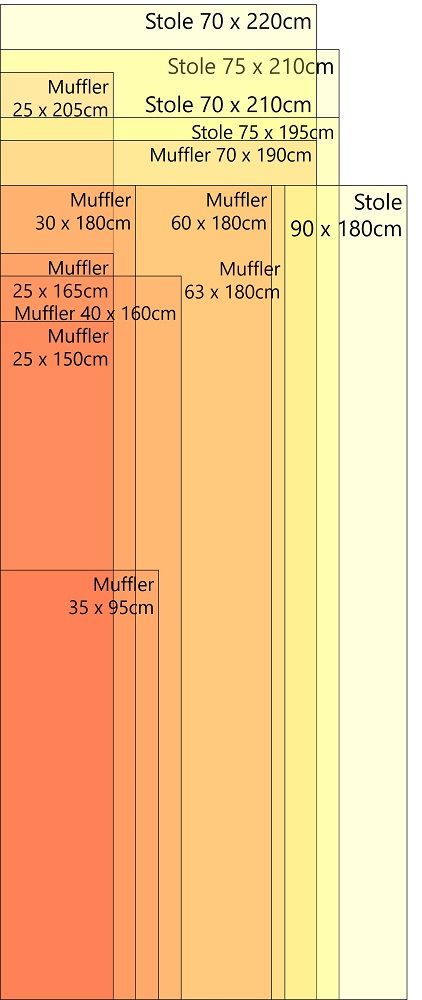 Materials
Depending on the materials, expertise and techniques used, some stoles appear bulkier and thicker than the other despite they have quite similar sizes. Hermes generally uses cashmere, silk or combination of both in different proportion to make stoles. Some involve the use of leather too, see below stole lined with calfskin leather trim and a tone-on-tone leather logo (green arrows).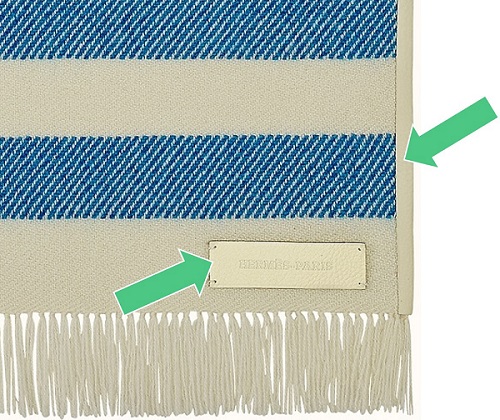 "Made In" Countries
Hermes stole and muffler are mostly made in France. Some are made in Nepal, India, Great Britain and Italy as well.
Lookbook
There are many ways to wear a stole. Head to my scarf tutorials on website or YouTube for ideas and step-by-step guide.
Women's Collection
As you can see from the image captions below, the prices (as of October 2020) are not reflective of the sizes but depending on the materials and expertise used and whether it is an exceptional piece. An exceptional piece means a piece of stole that is meticulously hand-embroidered with colored glass beads and thread, or ornamented with applique. Photos courtesy of Hermes.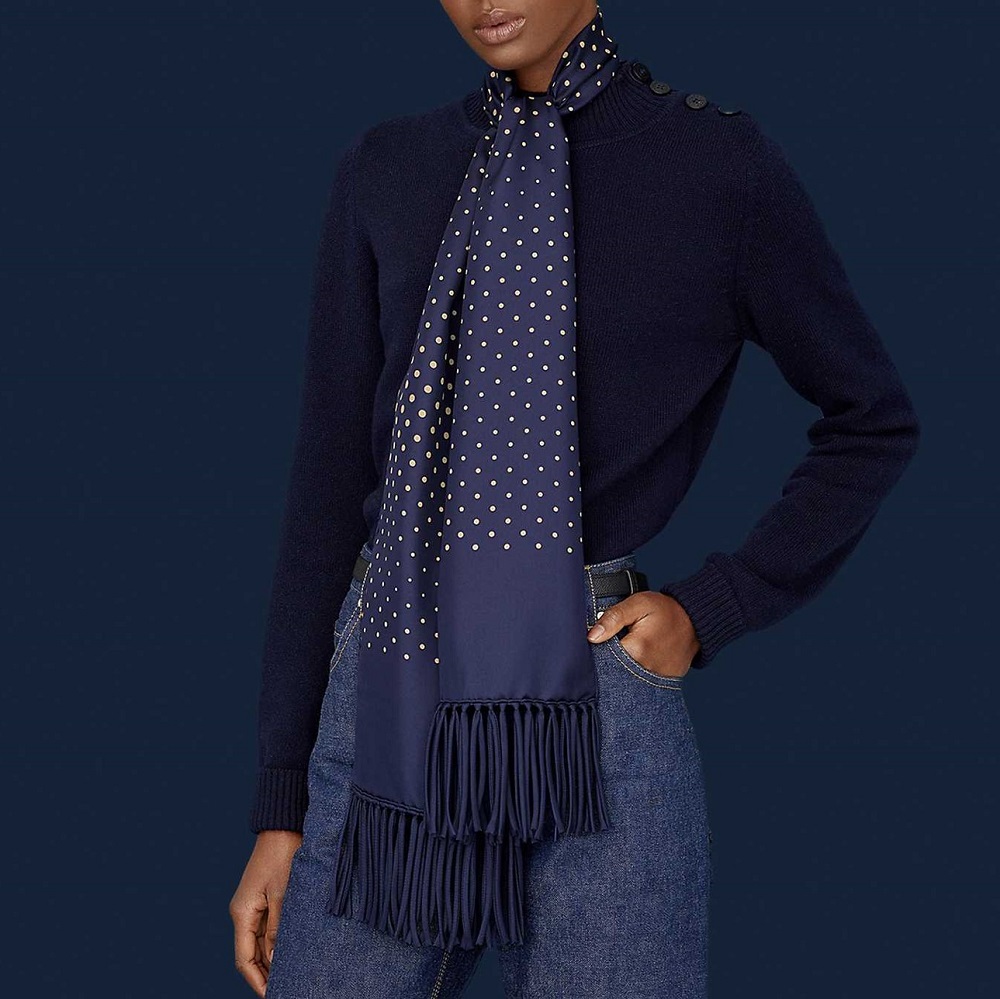 Scarf Stole
A scarf stole is the result of assembling two or three pieces of square scarf using delicate lap seam technique to form an oversized piece of stole. Scarf stole on the left below was made from two pieces of 90cm silk square scarves whereas the right one was the result of combining three pieces of 70cm silk square scarves. Photos courtesy of Hermes.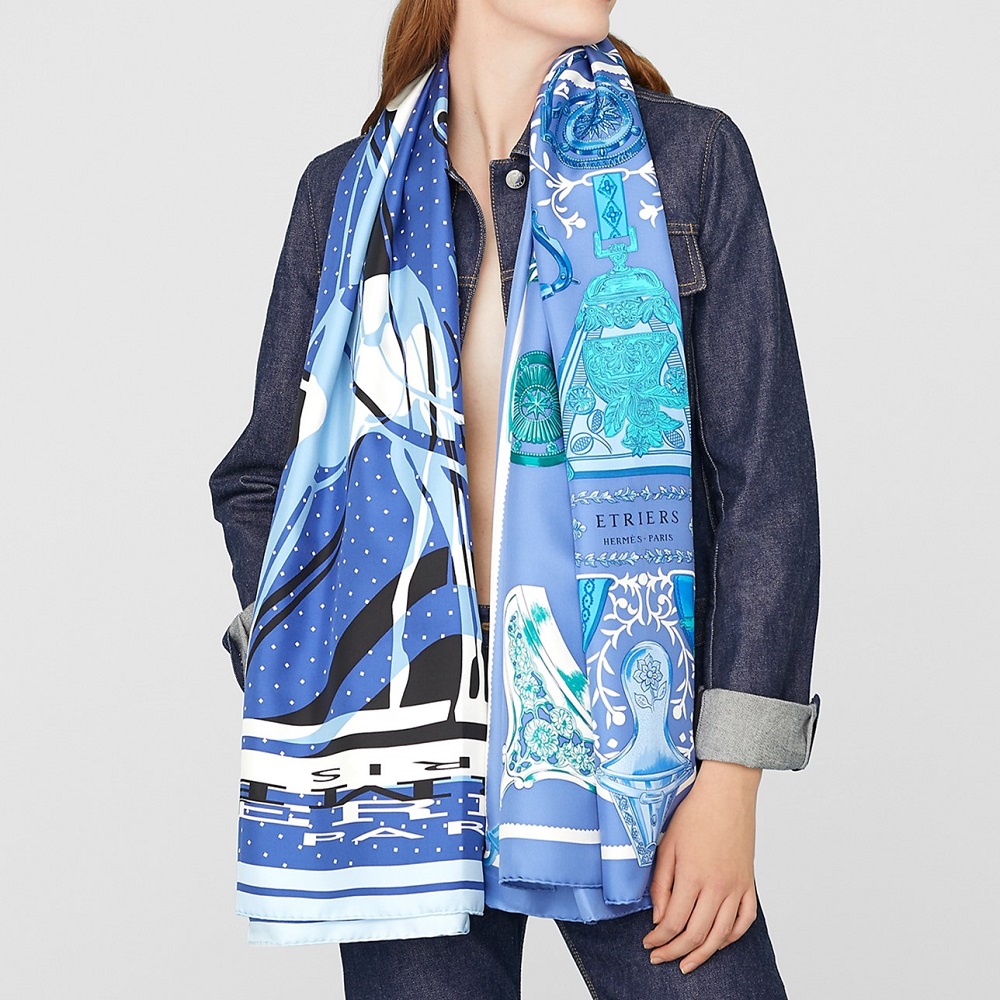 It is not a typo error, the scarf stole on the right is selling at SGD7,000 on Hermes website. It is an exceptional piece that was hand-embroidered with colored beads and thread.
Below is the close-up image of the piece, Brides de Gala en Desordre embroidered stole in 100% silk twill. Designed by Hugo Grygkar/Cyrille Diatkine and made in India.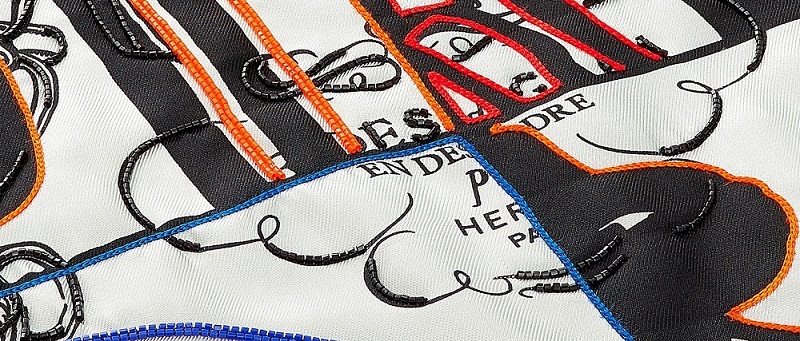 Men's Collection
Hermes stoles and mufflers are universal despite the House has categorized them into women's and men's collections. A lady who prefers a less feminine design can go for stoles from the men's collection; whereas a gentleman can choose to own a design from the women's collection if it suits him well. See these.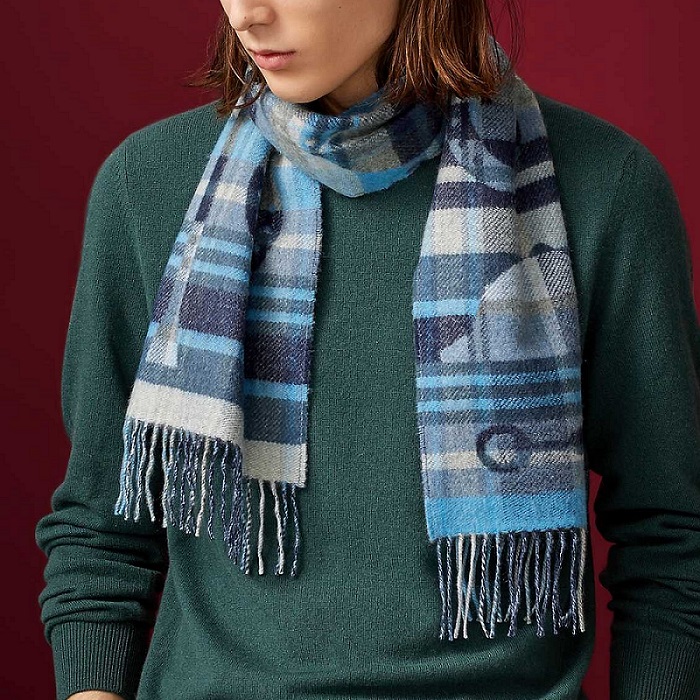 Care Instruction
Hermes always recommends to preserve the beauty of muffler by storing it flat and untied, avoid contact with rain, water and other chemicals such as cosmetics and perfume. Besides, entrusting the muffler to a professional dry cleaner is recommended as well.
Visit my blog Hermes Scarf, Twilly and Stole Size Guide for a complete list of sizes and diagrams.