Hermes Square Scarf Size Guide
As the name suggests, Hermes square scarf is in perfect square. Eleven dimensions available are 20cm, 42cm (handkerchief), 45cm (scarf/Pocket Square), 55cm, 65cm, 70cm, 90cm, 100cm, 140cm including round-shape scarf and love-shape Pocket Square, see Hermes square scarf size guide below.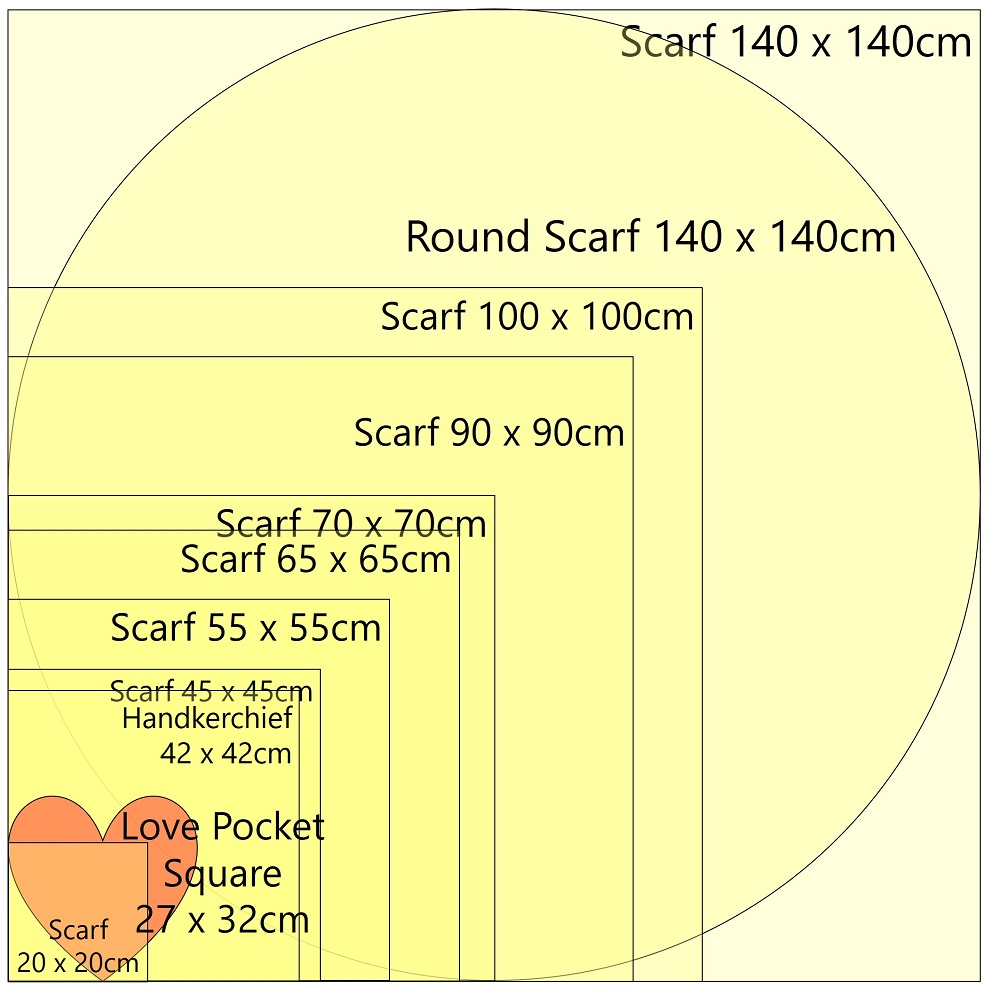 Materials
Silk is a common material used on Hermes scarf. Besides, Hermes also uses cotton, polyester, viscose, cashmere and combinations of these materials in varying proportions to make scarves. Scarf edges are hand-rolled, see image below which featuring my sold Hermes 90cm Champignons Mushroom Silk Scarf. Most of the scarves are made in France, some in Nepal, India, Switzerland and Great Britain.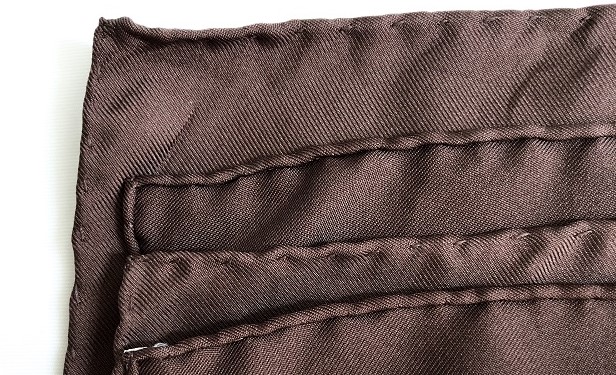 Prices
The prices are not reflective of the sizes but depending on the materials, designs, expertise and techniques used. Prices (as of October 2020) below are approximate.
| | |
| --- | --- |
| 20 x 20cm | SGD150 |
| Love Pocket Square 27 x 32cm | SGD300 |
| 42 x 42cm | SGD270 |
| 45 x 45cm | SGD230 – 290 |
| 55 x 55cm | SGD310 – 380 |
| 65 x 65cm | SGD290 |
| 70 x 70cm | SGD470 – 670 |
| 90 x 90cm | SGD630 – 910 |
| 100 x 100cm | SGD900 – 1,150 |
| 140 x 140cm | SGD1,250 – 1,600 |
| Round 140 x 140cm | SGD1,700 |
Lookbook
All images under Lookbook section are courtesy of Hermes.
Square 20 x 20cm
This is a mini version of Hermes scarf. You can tie this adorable scarf around your wrist or ankle, or tuck in a pocket. Launched in February 2020, there are only about ten designs available on Hermes website as of now.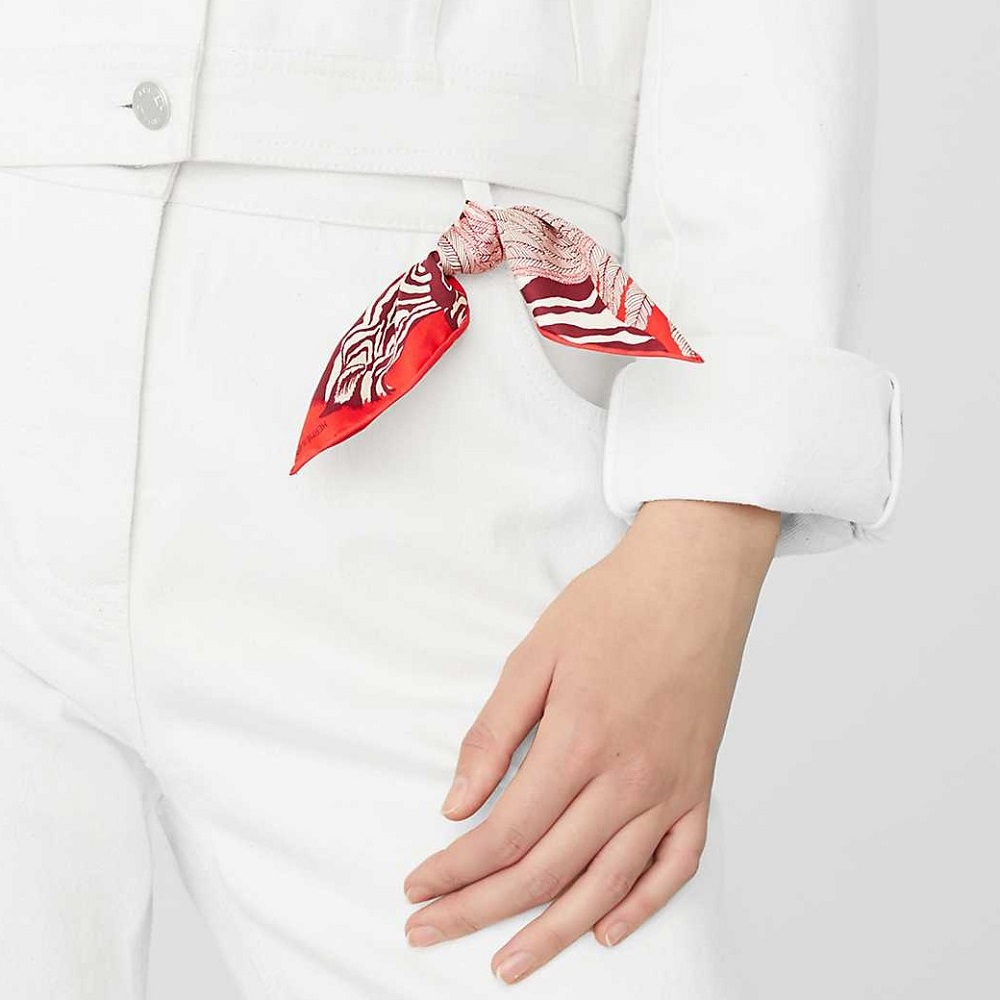 ---
Love Pocket Square
Launched around December 2019/January 2020, the Love Pocket Square had since then become the new members for the scarf family. It comes along with a heart-shape orange box, which makes it a perfect gift for your loved ones on Valentine's Day.
You can tuck it in your pockets as a brooch. Please, do not use a safety pin to fasten it because you will leave permanent holes on the silk scarf.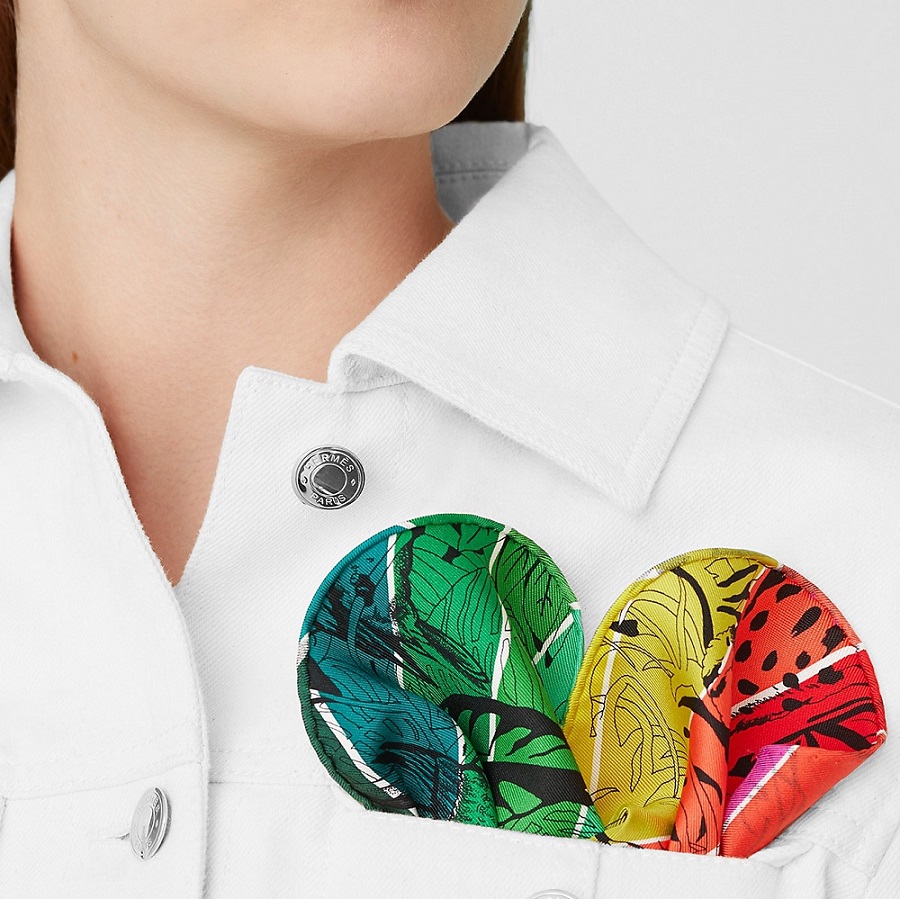 Click here to go back to list.
---
Handkerchief 42 x 42cm
The limited cotton handkerchief selections are falling under men's collection. If your man is using handkerchief, surprise him with this delicately created birthday present in orange box.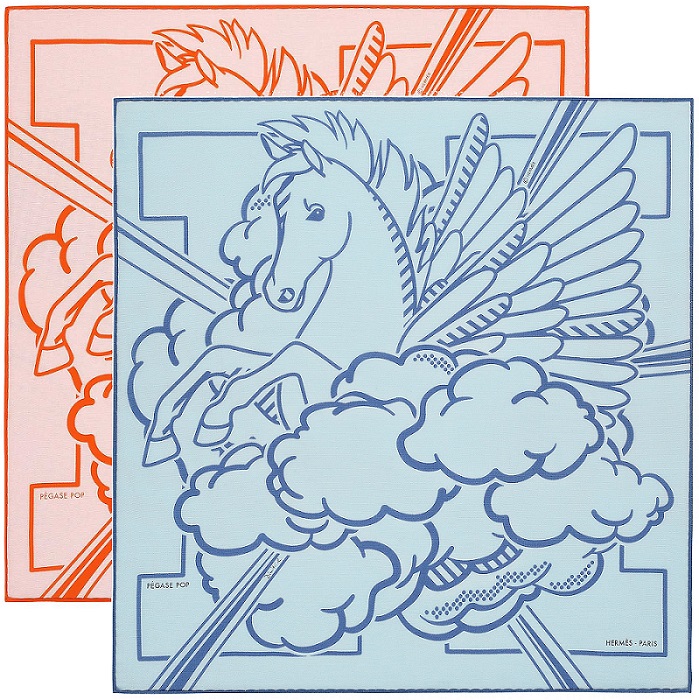 ---
Square 45 x 45cm
For lady here, you can tie it on your pony tail, wear it around your neck or on a bag, this small-sized scarf on the left can easily transform your look and uplift your mood for the day.
As for gentleman here, Hermes Pocket Square is the must-have accessories for your nicely-fitted suits.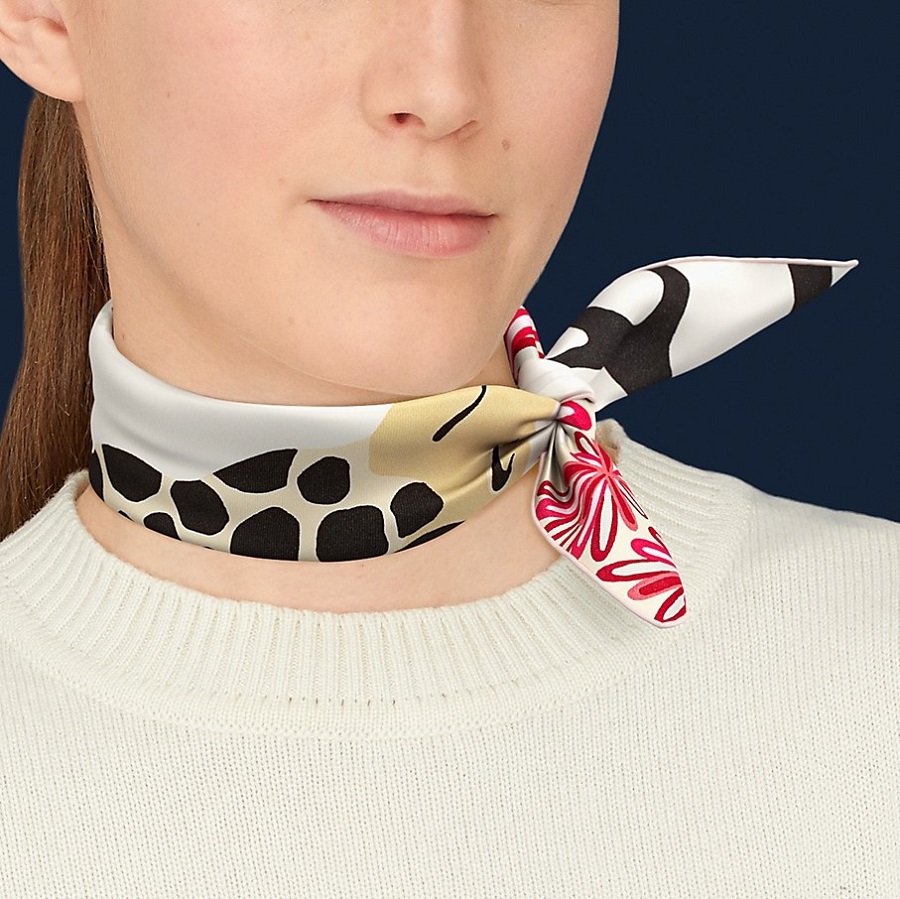 Click here to go back to list.
---
Square 55 x 55cm
Hermes names 55cm scarf as bandana. Tie it on your hair or wear it around your neck in cowboy (left) or double knot (right) style if you do not feel like wanting to wear any jewelry for the day. 🙂
Also, click at this link to check out how to make a silk scarf necklace. What you need to do is just make a small tweak to my tutorial which used a 90cm scarf – make one instead of three knots and you are ready to go!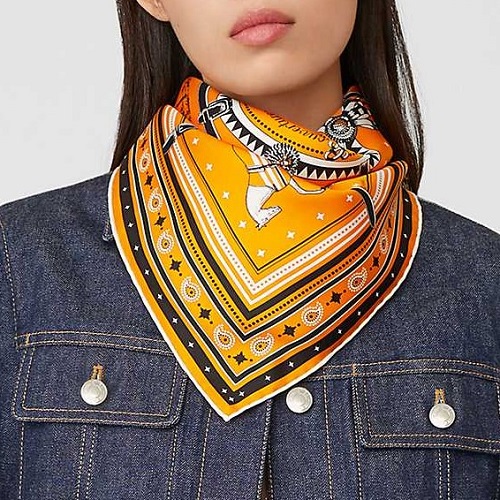 The image on the right is Hermes bandana in silk and polyester with a shiny and metallic appearance (64% silk, 36% polyester). The design was printed on the metallic silk. See close-up image below for Disco Coaching bandana 55, designed by Julie Abadie.

---
Square 65 x 65cm
Hermes 65cm scarf that was made of 100% cotton is retailing at around SGD290. It is an ideal choice for those who wish to own Hermes scarves without spending big bucks.
Click here to go back to list.
---
Square 70 x 70cm
Hermes has much lesser selections for 70cm scarf compared to 90cm and 140cm. It is an ideal option for fashionista who prefer a lighter look, or someone petite.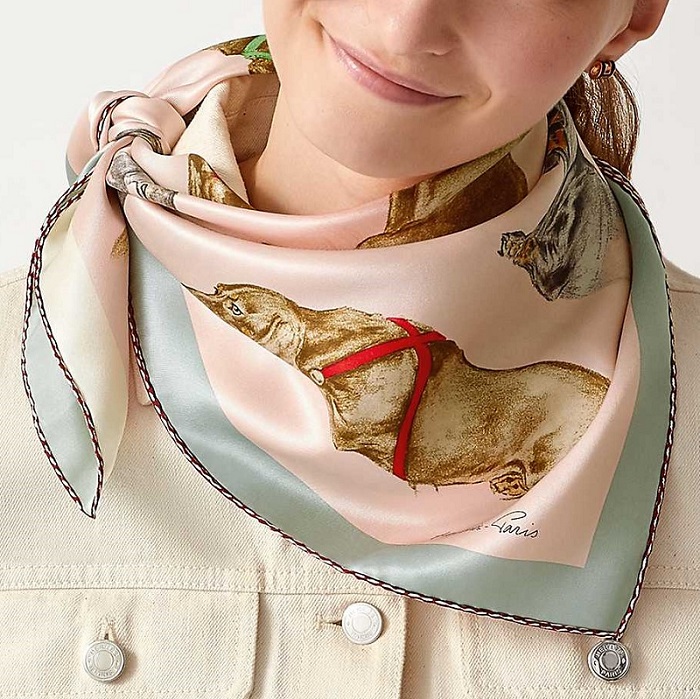 Scarf on the right was made of 80% silk and 20% viscose muslin plumetis. The making process involved unique expertise combined with Jacquard weave and embroidery. The lightness of muslin is enhanced with resolutely "pop" plumetis, see image below.
Specially designed 70cm scarves adorned with appliques are retailing at SGD670. How does a scarf with an applique look like? Section for 90cm scarf will cover this.
---
Square 90 x 90cm
Retailing at SGD630 and above, the 90cm scarf is very popular and can be styled in many different ways such as headscarf, scarf, top or skirt by using single or multiple pieces. Check out my scarf tutorials for tips and step-by-step guide.
Item #1 to #4 below are corresponding to the respective images.
The ordinary scarf in silk twill (100% silk).
This scarf was created from combining two iconic Hermes designs, blending equestrian inspiration and naive bestiary (100% silk). Each design took up half (in triangular shape) of the scarf.
Scarf in silk muslin (100% silk) that feels luxuriously light.
Double-face scarf in silk twill (100% silk) that was newly launched in June 2020 (Spring/Summer 2020 collection). Hermes introduced this double-face scarf on her Instagram in March and June 2020. This innovative technique provides two colorful scarves in one.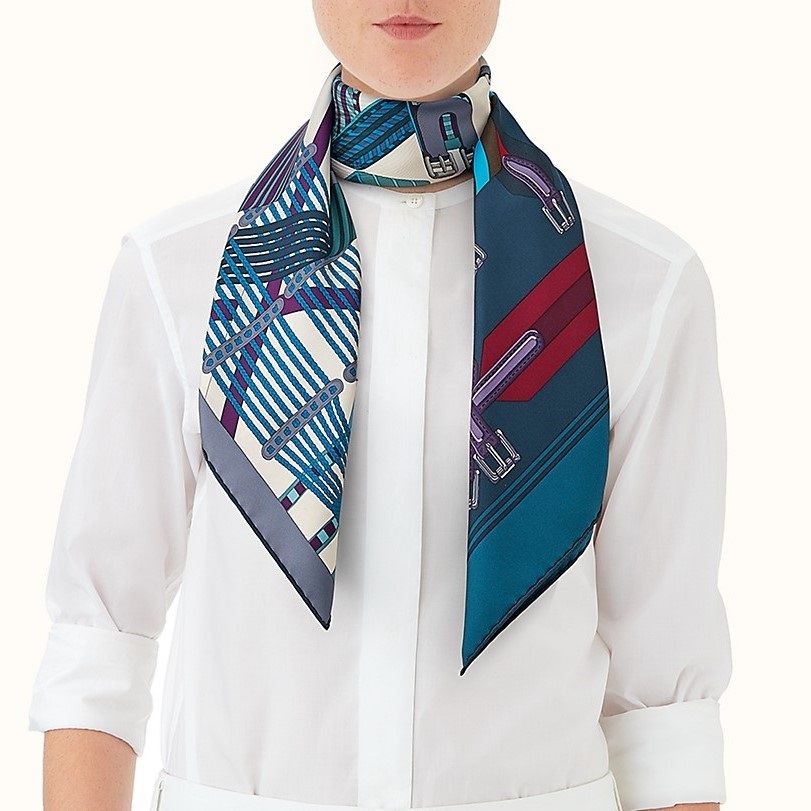 Scarves with a tweak to the ordinary ones always carry higher price tags. This 90cm scarf is retailing at SGD910, ornamented with contrasting silk patches of flowers (appliques) with random colours and patterns (100% silk).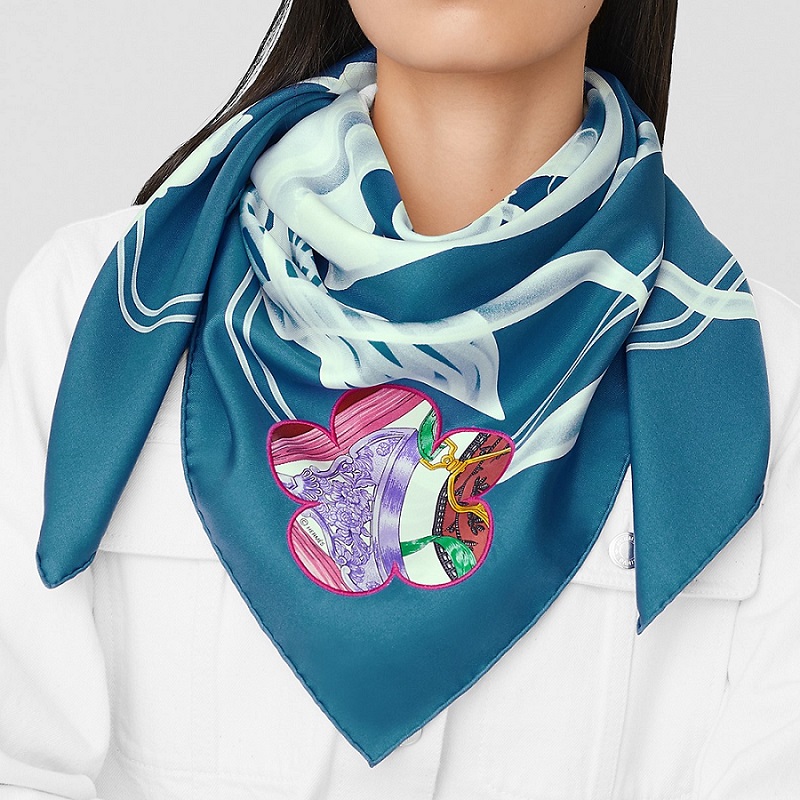 Click here to go back to list.
---
Square 100 x 100cm
Hermes scarves are unisex although Hermes categorizes her designs for women and men. Take a look at the images below. Any lady who prefers a less feminine look can consider scarves for the men.
Item #2 is a reversible scarf and remains beautiful no matter how you wear it.
The Aaaaargh! scarf featuring a T-Rex (item #3) is simply too cute to reject, look at the eye popping out at the neck. I know, some may feel scary. Designed by Alice Shirley, in 70% cashmere and 30% silk.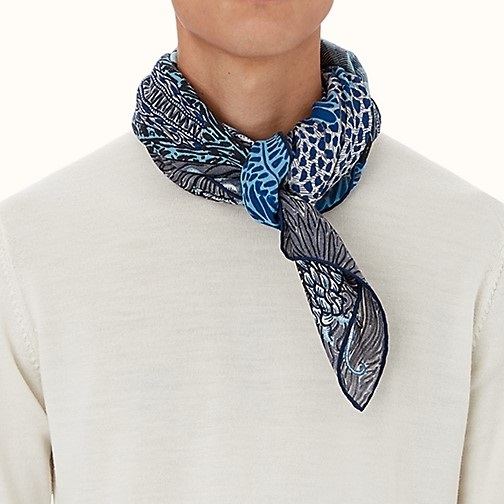 ---
Square 140 x 140cm
140cm scarf has the second largest design selections among the square scarf family, after the 90cm. They are retailing above SGD1,000. For those feel that this 140cm scarf is too bulky, triangle scarf in 64 x 140cm that was just launched in March 2019 could be their cup of tea. I am still working on my blog about Hermes triangle scarf. I will be posting the link here in due course (if I remember to update it here, otherwise, please try a search).
There are various materials, techniques and skills used in creating Hermes scarves, see item #1 to #5 that correspond to the images below.
Giant scarf in silk twill (100% silk).
The scarf was reinvented as the velvety wash scarf. It was washed by Hermes artisans' expert hands and transformed into a relaxed, mattified, slightly faded and downy-to-the-touch scarf. This exclusive process makes each scarf unique and can slightly alter its dimensions. It can be dry cleaned or machine washed with extra precautionary measures as mentioned in the care instruction.
Shawl in cashmere and silk muslin.
Shawl in 70% cashmere and 30% silk. It is supple, light and easy to wear.
Shawl in 70% cashmere and 30% silk.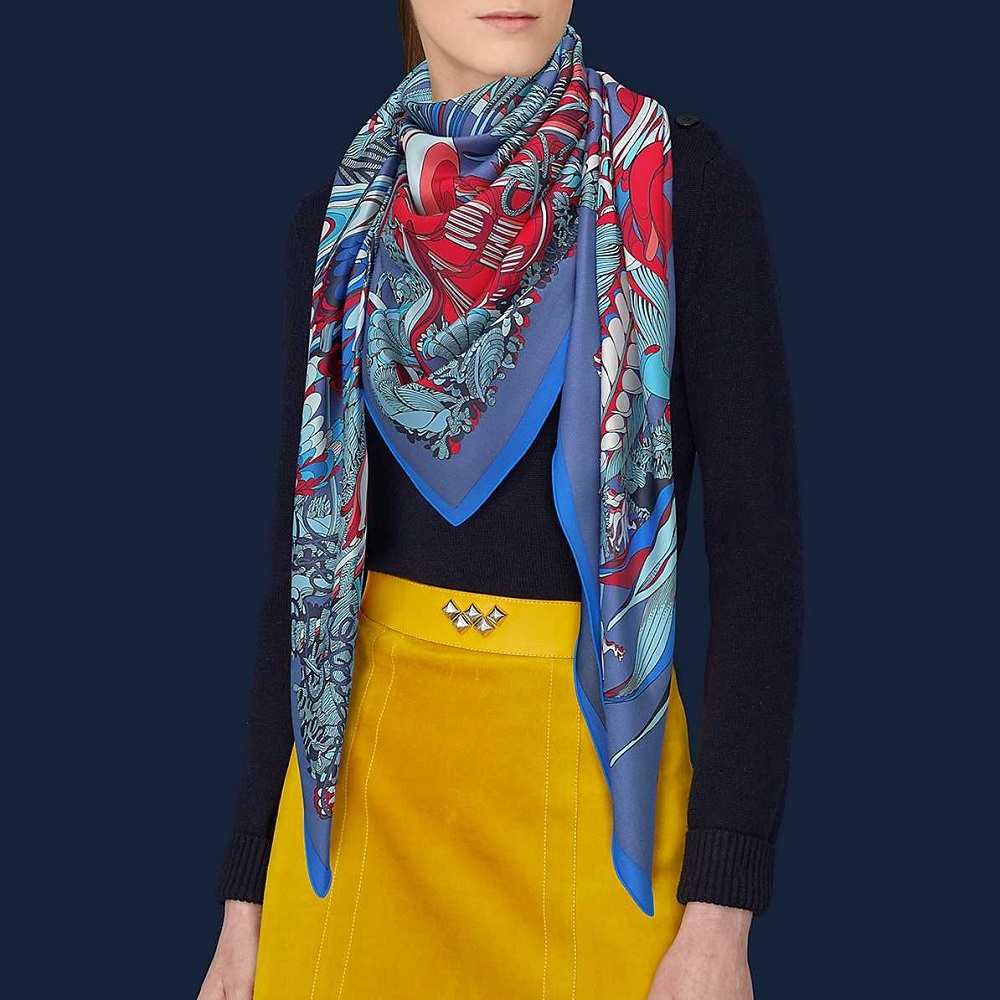 The Plume Ikat H Net scarf (below) is crafted entirely by hand in Nepal, using impressive dye and weaving techniques. As mentioned on Hermes website, to create this complex motif, over 3,000 knots are carefully tied onto the skeins of weft threads, which are then dyed and placed one by one on the loom. It consists of 80% cashmere and 20% silk.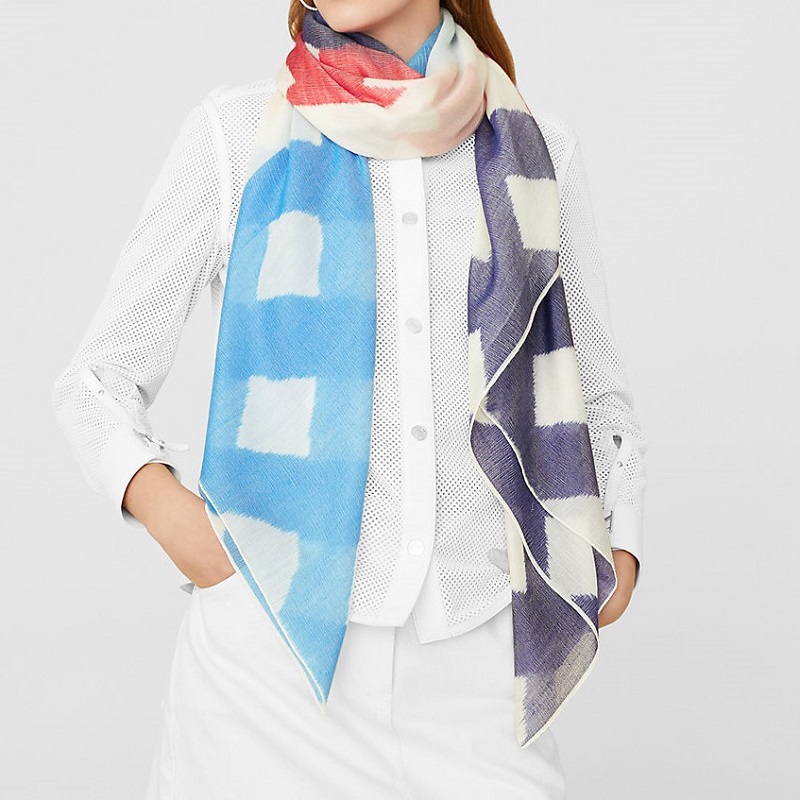 Click here to go back to list.
---
Round 140 x 140cm
Hermes round scarf depicting the surface of the moon and the powerful body of Pegasus, the winged horse. It was launched in June 2020, the Spring/Summer 2020 collection. Hermes announced the launch of this round scarf on her Instagram in February 2020.
Designed by Dimitri Rybaltchenko, the scarves are available in orange, pink and grey.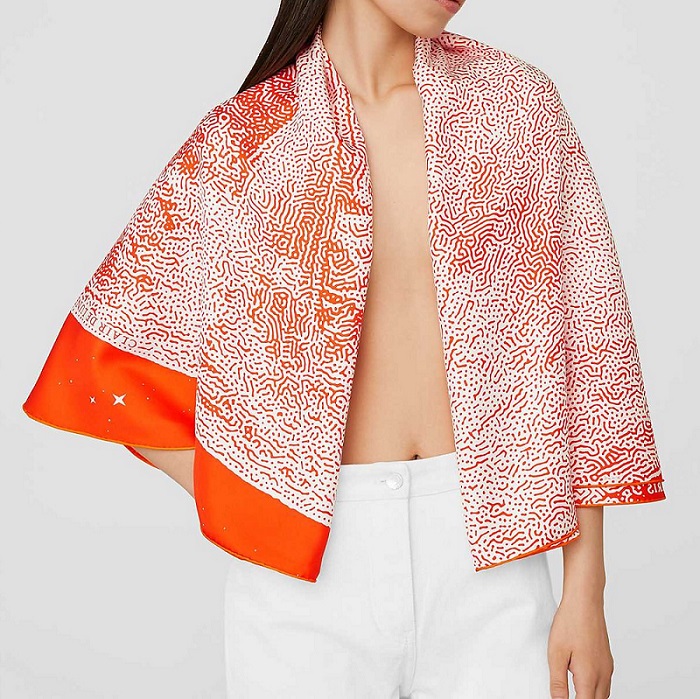 Click here to go back to list.
---
Head to my blog Hermes Scarf, Twilly and Stole Size Guide for a summary of sizes and diagrams.