Hermes Scarf, Twilly and Stole Size Guide
I thought it would be a short post. I thought I could combine everything into one post. However, during my work in progress, I slowly realised that it will not be short as I have predicted. I have to split it into a few posts so that readers have access to greater details about Hermes scarf, twilly and stole size guide. This post contains only brief descriptions and diagrams for scarf, losange, twilly, twillon, stole and muffler. For detailed information such as additional images, prices, materials and lookbooks, please head to the individual post which will be created in due course, I will provide the post links here.
Hermes Square Scarf
The square scarf family consists of scarves of 20cm, 42cm (handkerchief), 45cm (scarf/Pocket Square), 55cm (bandana), 65cm, 70cm, 90cm, 100cm and 140cm in square and round shapes. It also includes Pocket Square in love shape. Check out my blog Hermes Square Scarf Size Guide for more information.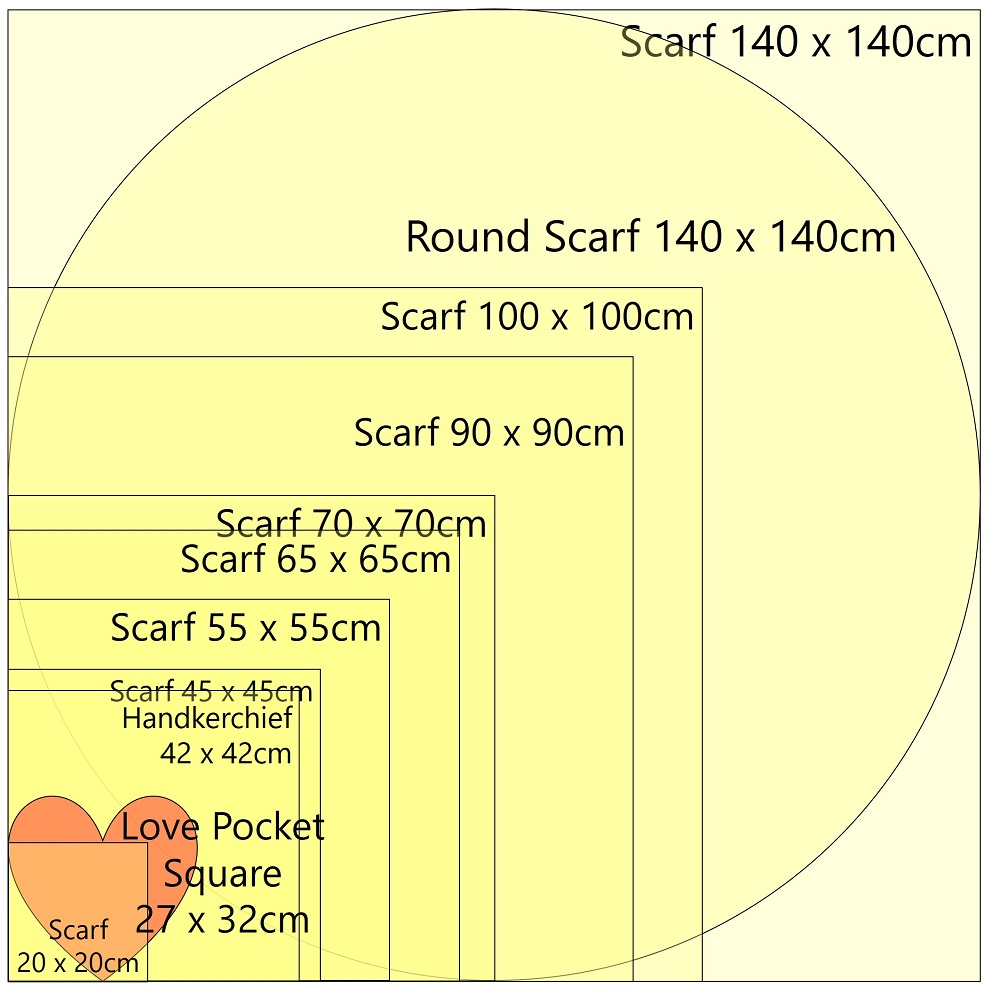 ---
Hermes Stole and Muffler
Hermes generally uses the term "muffler" on scarf that is narrower and "stole" for those wider. Scarf stole sometimes means stole which is the output of combining two or three square scarves using delicate lap seam technique. Scarf stole of 90 x 180cm could be the combination of two 90cm square scarves; whereas the 70 x 210cm is the combination of three 70cm square scarves.
Wanted to know more? Head to my blog Hermes Stole and Muffler Size Guide.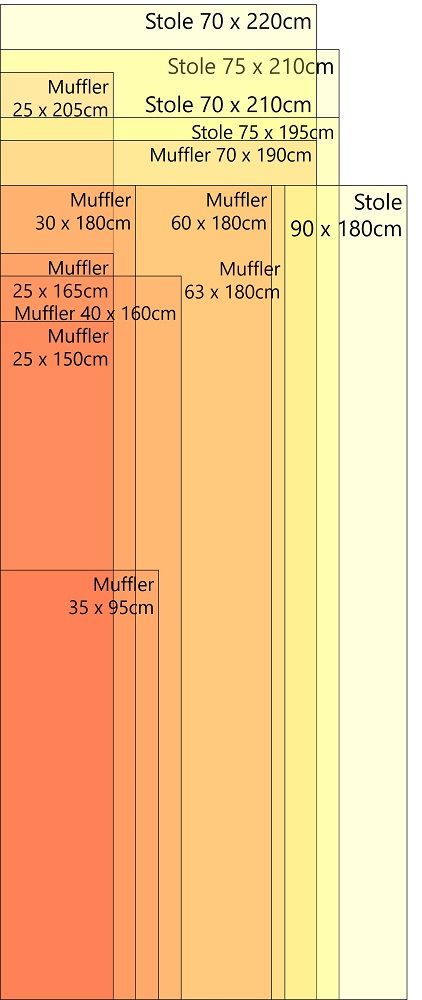 ---
Hermes Maxi-Twilly Cut, Maxi-Twilly Slim, Twillon and Twilly
The various dimensions suit different needs of Hermes enthusiasts, from wearing it as a scarf, headpiece, belt, wristlet, bag charm to wrap it onto a handbag's handle.
Wonder how these ribbons look on models? Check out my blog Hermes Maxi-Twilly, Twillon and Twilly Size Guide.

Click here to go back to list.
---
Hermes Losange
There are medium, large and slim Losange in various dimensions under each size category. Each "member" under its respective size category has only nuancing distinction between each other, and hence the difficult-to-read diagram. Different dimensions, designs and materials are available for sales on Hermes websites across different regions. This means a Losange avaialble on Hermes's French website might not available on Hermes's Singapore website.
How do Losange Slim, Medium and Large look like when styled? Find out more on my blog Hermes Losange Size Guide.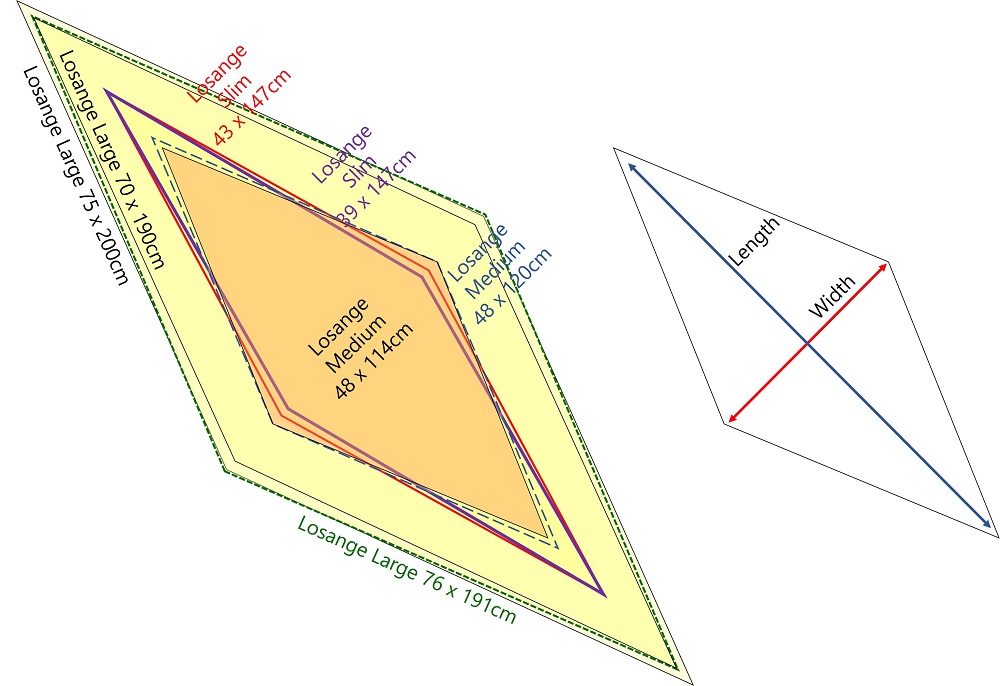 ---
Hermes Giant Triangle and Triangle Scarf
Hermes triangle scarves come in three sizes. The Giant Triangle was launched in early March 2019.
Wish to know more to make a better shopping decision? Head to my blog Hermes Triangle Scarf Size Guide for details and a side-by-side comparison between triangle and square scarves.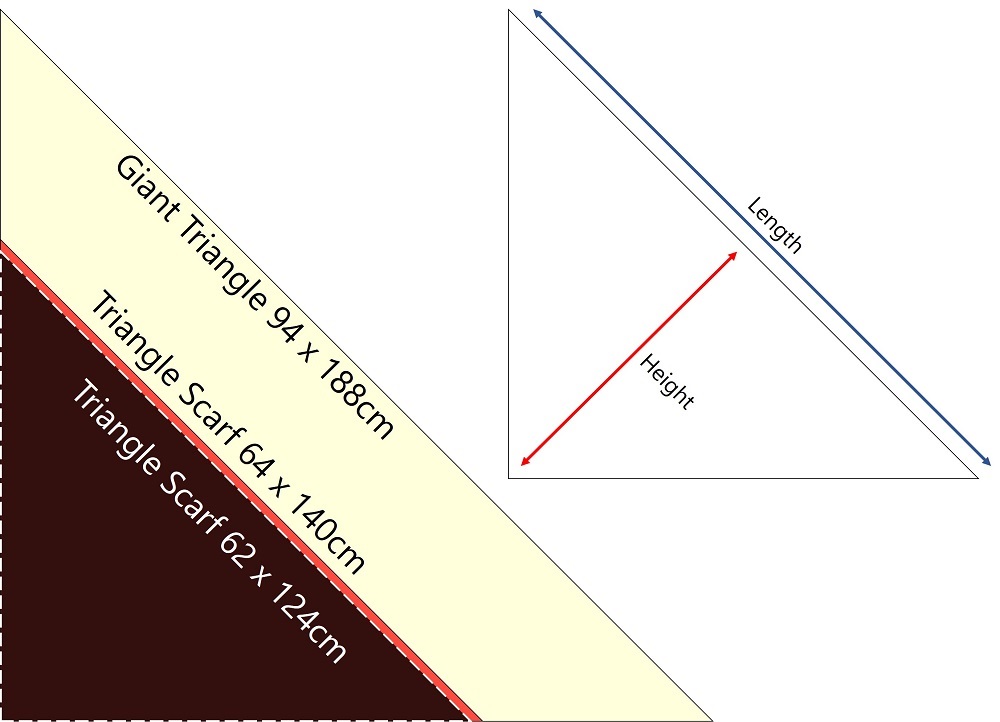 ---
You may wonder how the diagrams look like if I put everything together. Could it be more reader-friendly for a side-by-side comparison? Well, here you go. I have not included every single size and it was already look messy and confusing.