Hermes Triangle Scarf Size Guide
If you browse through my scarf tutorials, you will realize that most of the knots are started by making a Base Fold or a diagonal fold using a square scarf. If you are a scarf fan but favour towards a lighter look when styling yourselves with large scarves such as the 140cm square scarves, Hermes triangle scarves may be your cup of tea. You can also skip the step of making a diagonal fold too when making a, say Cowboy Fluid knot. See Hermes triangle scarf size guide below for different dimensions.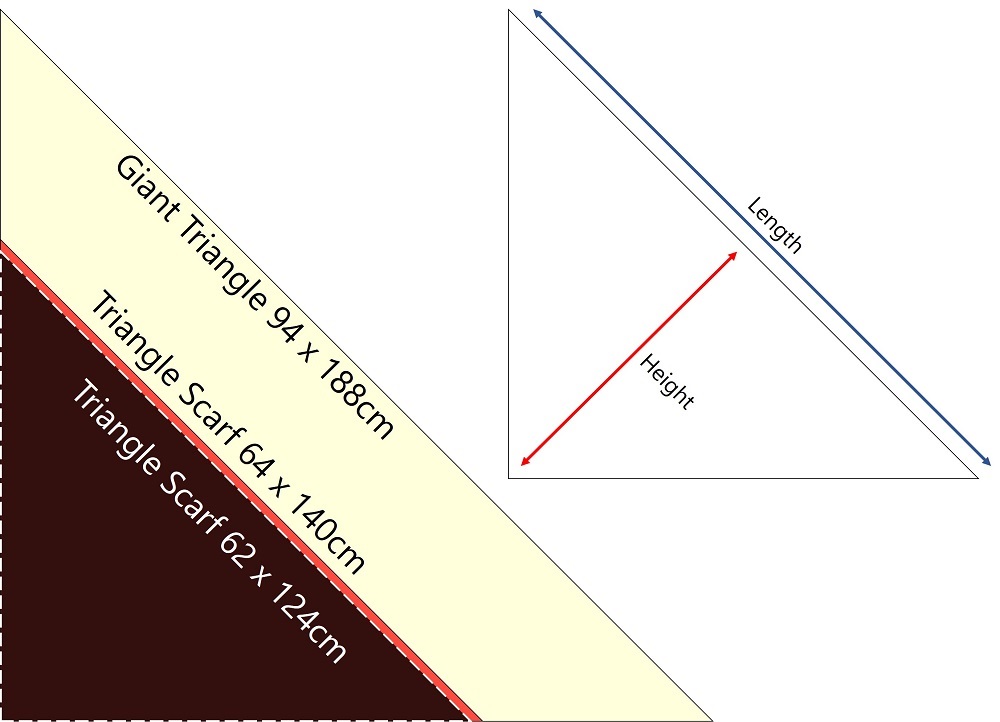 The diagram above indicates dimensions that were found on Hermes website, in height and length as illustrated by the image on the right. To help the readers here to better imagine the size, I have added the approximate side length. This means triangle scarf in 64 x 124cm is half of square scarf in 90cm, and so on. See table below.
| | | |
| --- | --- | --- |
| | Hermes's Dimensions | Side |
| Triangle | 62 x 124cm | 90cm |
| Triangle | 64 x 140cm | 90cm |
| Giant Triangle | 94 x 188cm | 140cm |
Launched in early March 2019, Giant Triangle is another great option for Hermes scarf enthusiasts who always looking for opportunities to add new treasures to their collections.
I also noticed that a few Giant Triangles were listed as 135 x 188cm on Hermes website. However, these dimensions can never form a right triangle and hence I have excluded them from this post.
Similar to other silk scarves, the triangle scarves are made in France and the edges are hand-rolled.
Lookbook
Images under lookbook section are courtesy of Hermes. It is not that I have omitted the 64 x 140cm scarf. It was no longer available on Hermes website when I was compiling the images.
Reversible triangle scarf in 100% silk twill.
Giant triangle in 100% silk twill.
Giant triangle in 70% cashmere and 30% silk.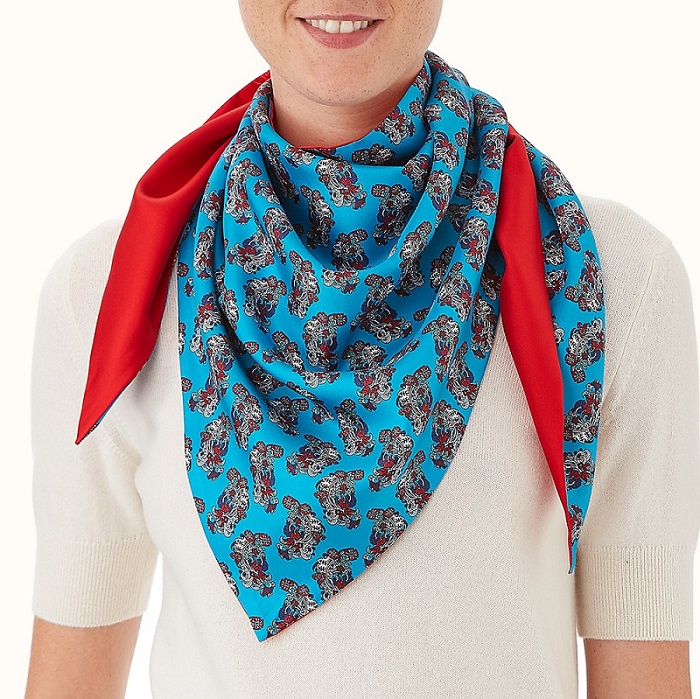 ---
Hermes Triangle vs Square Scarf
If you wish to have a side-by-side comparison on how an Hermes triangle and square scarf look like when styled, here you go.
Triangle 62 x 124cm vs Square 90cm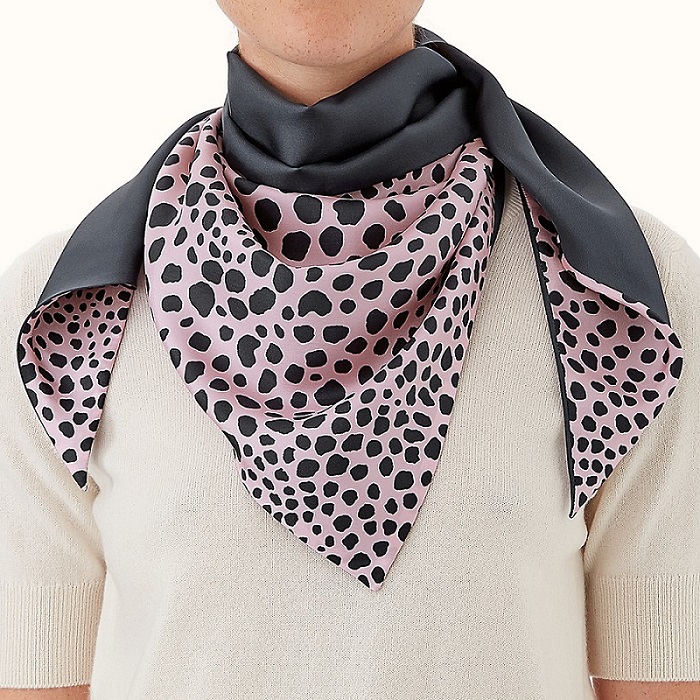 ---
Giant Triangle 94 x 188cm vs Square 140cm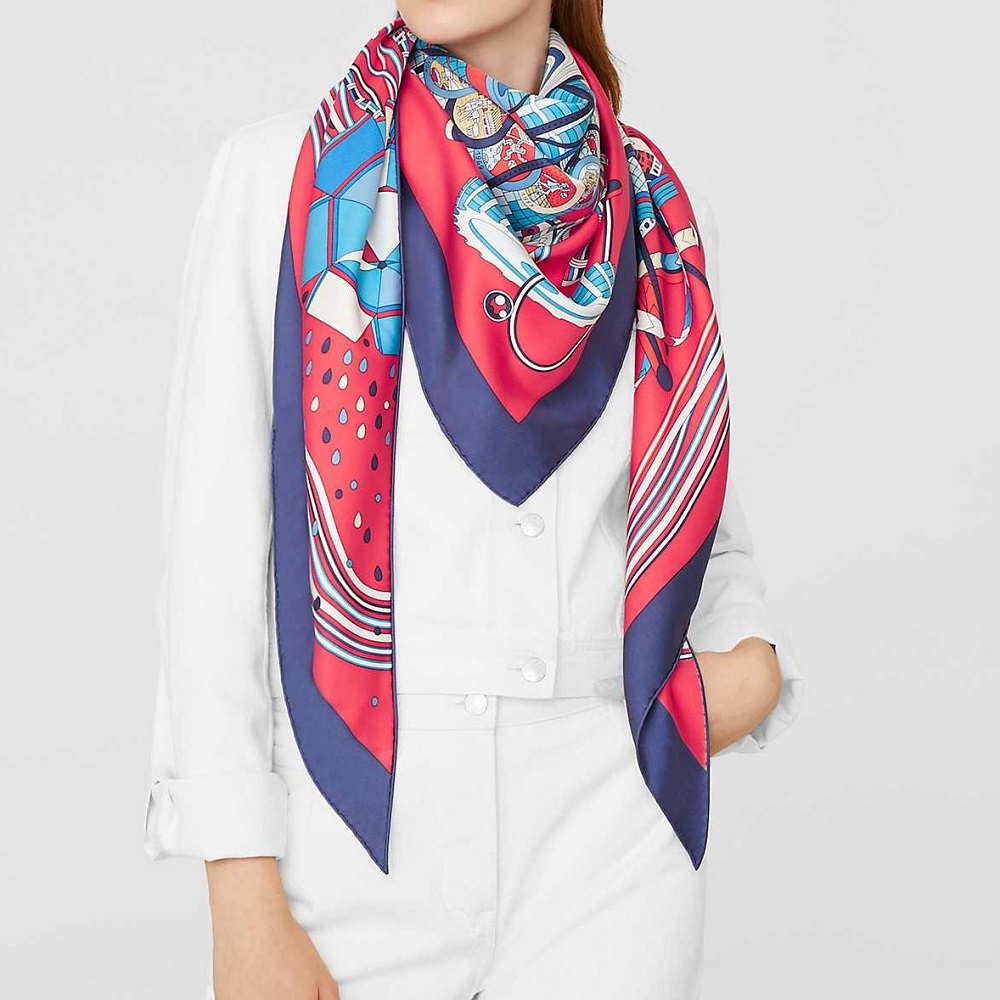 Visit my blog Hermes Scarf, Twilly and Stole Size Guide for a quick glance on various scarf sizes and shapes.