Louis Vuitton Men's Bag Model Index
The reason devising Louis Vuitton Men's Bag Model Index is similar to the reason I devised the Louis Vuitton Women's Bag Model Index. Observing women's bag models is far more interesting than observing the men's bag models. The number of women's handbags is at least two times more than men's bags. Hence, it has higher likelihood to discover handbags that shared the same name but in totally different designs, or similar handbags with different names.
Nonetheless, developing searchable list/index for Louis Vuitton men's bags was something worth doing. We will never know how it can assist someone looking for information. Sometimes I wonder how free things or services can change the way people run their businesses or acquiring a skill. I have friends who learned sewing and knitting from YouTube tutorials and they did well, without paying a single cent to attend any class.
Some bag models do not come with a unique name and were given a generic name instead, such as Bumbag. Some bags were designed differently but were given the same unique name, such as the Discovery Backpack. For these reasons, I have added the number of variant models next to the names. Head to my blog Louis Vuitton Men's Bag Model for illustrations.
This blog ignores the different sizes, materials and colours used on a bag model. For example, only one District bag will be listed here, instead of District PM and MM. One interesting thing to note is bags of the same model, same size but made of different materials will have structural differences. See these examples taken from District PM bags. The top one was made of Monogram Eclipse Canvas. It has has one pocket at the front, under the flap. The bottom one was made of Damier Infini Astral Silver cowhide leather. It has one zip pocket at the back.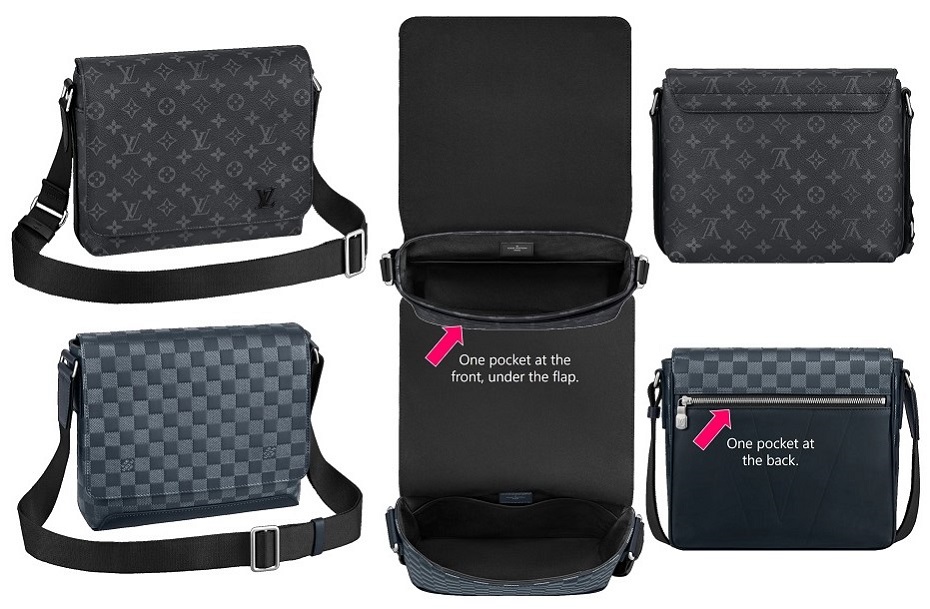 I do not affiliate with Louis Vuitton so I will not have the complete data on the men's bags Louis Vuitton has rolled out from day one till now. The compilation here was simply data I have collected so far and by no means absolute or intended to mislead the readers.
Attention: The internal data of table "21" is corrupted!
Last updated on March 6, 2021.