The Luxury Fashion Abbreviations and Acronyms
A GST can mean Goods and Services Tax instead of Grand Shopping Tote for a non-Chanel fan. Similarly, GP can mean gross profit for a person with financial background instead of Hermes Garden Party. For those who just started to embark on their journey of wanting to own the first or second piece of luxury fashion houses' creations, be it a bag, clothing, accessory or (costume) jewelry, researching on the related information could be something they do before walking into the boutiques. And it is very common for them to come across many fashion abbreviations and acronyms that do not make sense to them.
As you can see from Chanel's Instagram post below, she spelled out the full name for Fall-Winter (FW) and ready-to-wear (RTW). However, not all posts (I did not mean only Chanel) were written in such an easy-to-understand way. This Chanel post was featuring a giant imitation pearl wallet-on-chain (WOC). Tempted to own one? yeah…
This article will help you make some sense in a quick way. Do utilize the search function because of the long list.
Abbreviation/
Acronym
Description
Brand
Remarks
C
Chanel
CD
Christian Dior
H
Hermes
LV
Louis Vuitton
LVMH
Moët Hennessy Louis Vuitton
TB
Thomas Burberry
Burberry
YSL
Yves Saint Laurent
CC
Chanel double C logo motif
Chanel
GG
Gucci double G logo motif
Gucci
GST
Grand Shopping Tote
Chanel
Bag
PST
Petite Shopping Tote
Chanel
Bag
WOC
Wallet-On-Chain
Chanel
Bag
B
Birkin
Hermes
Bag
C
Constance
Hermes
Bag
DS
Double Sens
Hermes
Bag
GP
Garden Party
Hermes
Bag
HAC
Le Haut a courroies
Hermes
Bag
K
Kelly
Hermes
Bag
L
Lindy
Hermes
Bag
CDC
Collier De Chien
Hermes
Accessory
KDT
Kelly Double Tour
Hermes
Accessory
MPA
Multi-Pochette Accessoires
Louis Vuitton
Bag
OTG
OnTheGo
Louis Vuitton
Bag
RTW
Ready-to-wear
Clothing
SLG
Small leather goods
Accessories
SS
Spring-summer
AW
Autumn-winter
PF
Pre-fall
FW
Fall-winter
BB
Mini size
PM
Small size (petit)
MM
Medium size (moyenne)
GM
Large size (grande)
TPM
Very small size (tres petit)
Hermes
Evelyne Bag
TGM
Very large size (tres grande)
Hermes
Evelyne Bag
NM
New model
Louis Vuitton
CSGM
Cashmere silk large stole
Hermes
Scarf
CW
Colourway
Hermes
Scarf
BGHW
Brushed gold hardware
GHW
Gold hardware
PHW
Palladium hardware
RGHW
Rose gold hardware
RHW
Ruthenium hardware
SHW
Silver hardware
SA
Sales associate
SM
Sales manager
SD
Store director
PO
Podium order
SO
Special order
ESDW
European Sustainable Development Week
FSH
Faubourg Saint-Honore, Paris
Store's location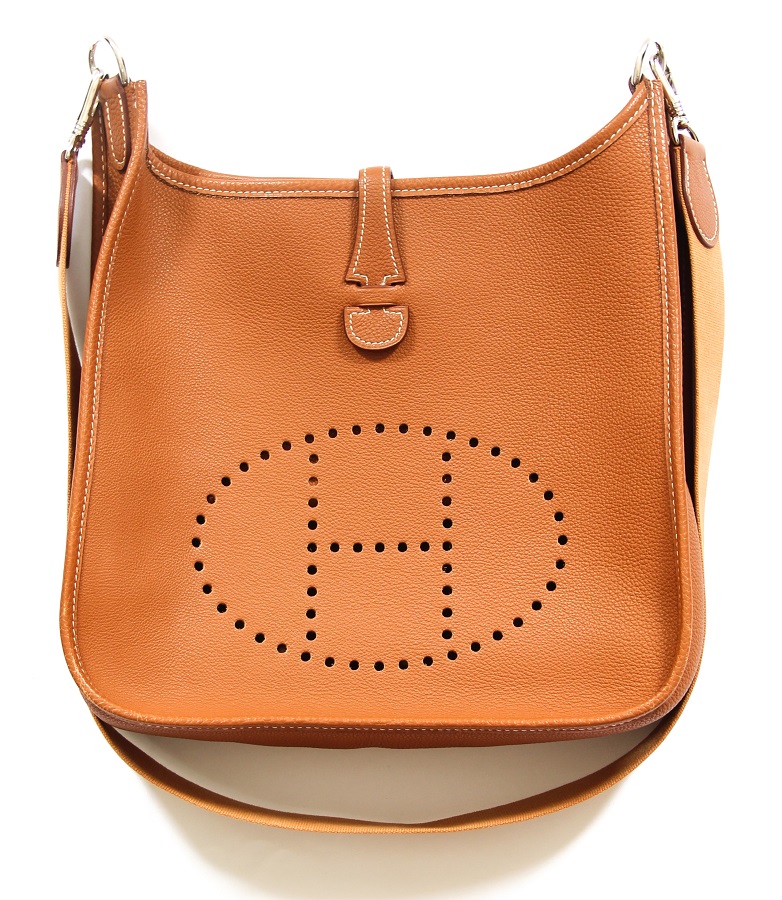 Hermes Evelyne I PM Bag refers to Hermes Evelyne Generation #1 Bag in small size. This sling bag was sold and check its product details here if you are keen.