Louis Vuitton Bag Date Code Reference Guide
Many people have strong interest in learning how to authenticate and spot a fake luxury branded handbag. However, in order to master the skills needed in authenticating one particular brand, one has to devote a great amount of time and money in observing and collecting the luxury goods and the related information such as product catalogues.
Louis Vuitton bag date code reference guide was written to help readers here to self-authenticate their Louis Vuitton handbags that are listed for sales on any platform, or which they already bought. Logically, we do not put the cart before the horse. We would verify the authenticity before purchasing, rather than another way around.
This guide should not be used as the ultimate reference in verifying the authenticity of a Louis Vuitton bag. It should be used as merely one of the many criteria in identifying fake Louis Vuitton bags. Spotting counterfeit luxury handbags is now getting more and more challenging because of the super-fake, which annoys me so much. However, this still can be counteracted because there are many reliable independent authenticators who provide their services through image authentication, so check them out.
Unlike Chanel serial number and hologram sticker, Louis Vuitton bag date code is not unique, i.e. you can find the same date code on two Louis Vuitton bags. The date code format has been evolving since it was first introduced in the early 1980s. The information here is by no mean to be 100% comprehensive.
Table of content:
Timeline and Format
Y denotes year, M denotes month, W denotes number of week and L denotes production country. Short overview:
| | | |
| --- | --- | --- |
| Timeline | Format | Example |
| Prior to early 1980s | No date code | |
| Early 1980s | YYM, YYMM | 842, 8312 |
| 1980s | YYMLL, YYMMLL | 862TH, 8711VX |
| Late 1980s | LLYYMM | TH8910 |
| 1990 to 2006 | LLMYMY | FL0065 |
| 2007 and onwards | LLWYWY | MB1141 |
Early 1980s
Three or four digits in the format of YYM or YYMM. I can not recall why I did not keep the photo of date code for my Louis Vuitton Monogram Canvas Trousse Toilette 28 Cosmetic Bag that was produced in 1984.
E.g. 842 denotes a bag made in February 1984, 8312 denotes December 1983.
Click here to go back to table of content.
---
1980s
Three or four digits followed by two alphabets in the format of YYMLL or YYMMLL.
E.g. 862TH denotes February 1986 in France, 8711VX denotes November 1987 in France.
Below image was from my sold Louis Vuitton Monogram Canvas Pochette Dame PM Clutch.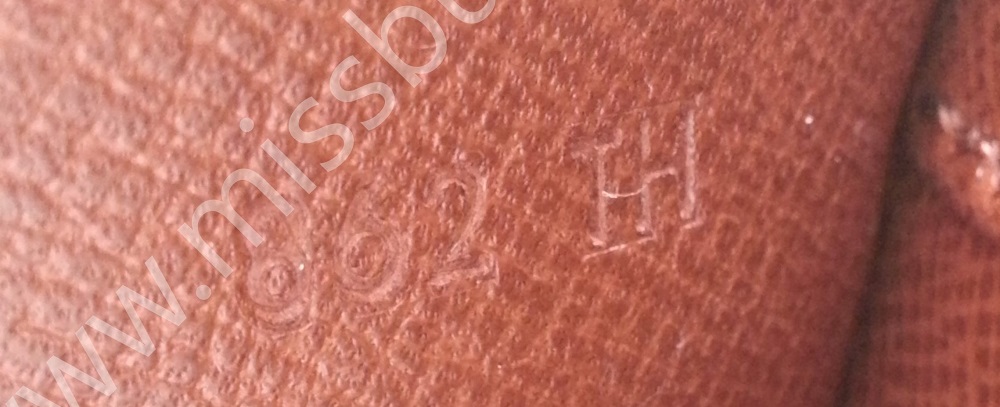 ---
Late 1980s
Two alphabets followed by four digits in the format of LLYYMM.
E.g. TH8910 denotes October 1989 in France.
Sample was taken from my sold Louis Vuitton Monogram Canvas Pochette Dame GM Clutch.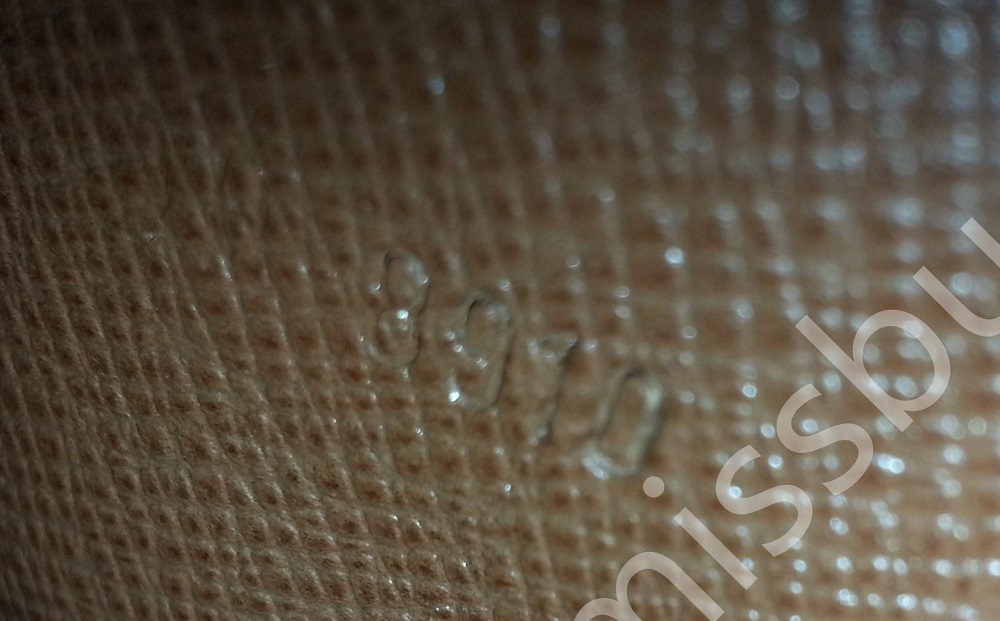 Click here to go back to table of content.
---
1990 to 2006
Two alphabets followed by four digits in the format of LLMYMY.
E.g. FL0065 denotes June 2005 in France or USA.
Image below belongs to my sold Louis Vuitton White Multicolore Canvas Takashi Murakami Wapity.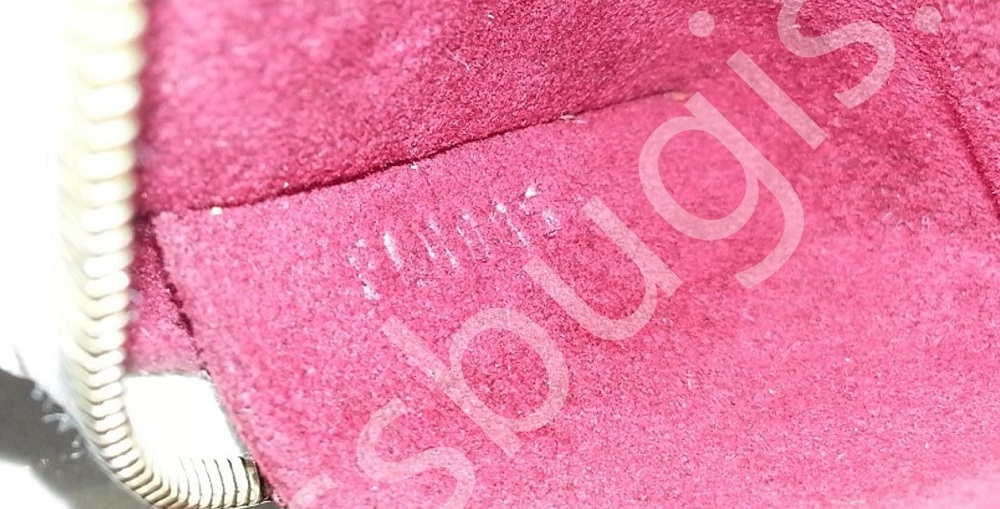 ---
2007 and Onwards
Two alphabets followed by four digits in the format of LLWYWY.
E.g. MB1141 denotes the 14th week, year 2011 in France.
Image below was from my sold Louis Vuitton Monogram Idylle Speedy Bandouliere 30.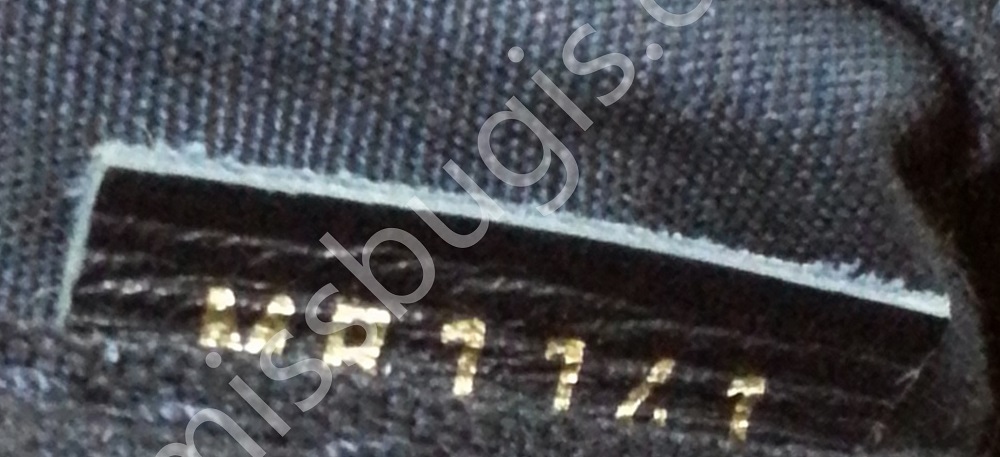 Click here to go back to table of content.
---
Sample Date Code
Some date codes are easy to read but some are not, especially those on vintage Louis Vuitton bags or debossed on microfibre lining because they could have already faded. The date code usually created at a hidden area such as near to the seam and hence making taking photo extremely challenging, not to mention about the tiny font size. They can be found on leather tab that attached to lining, on the lining, D-ring holder or strap holder.
On fabric lining: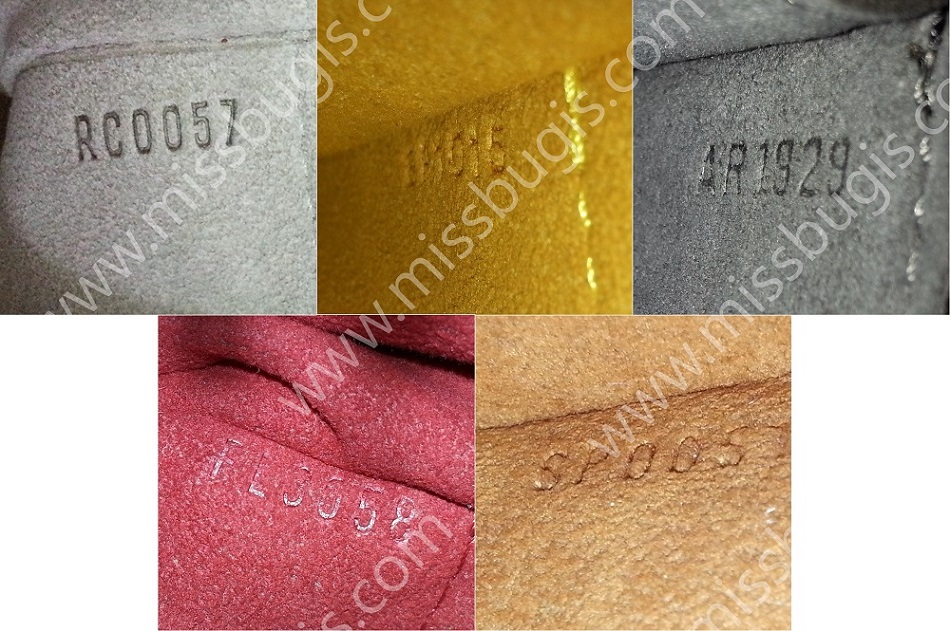 On leather tab:


On leather inside a bag and wallet: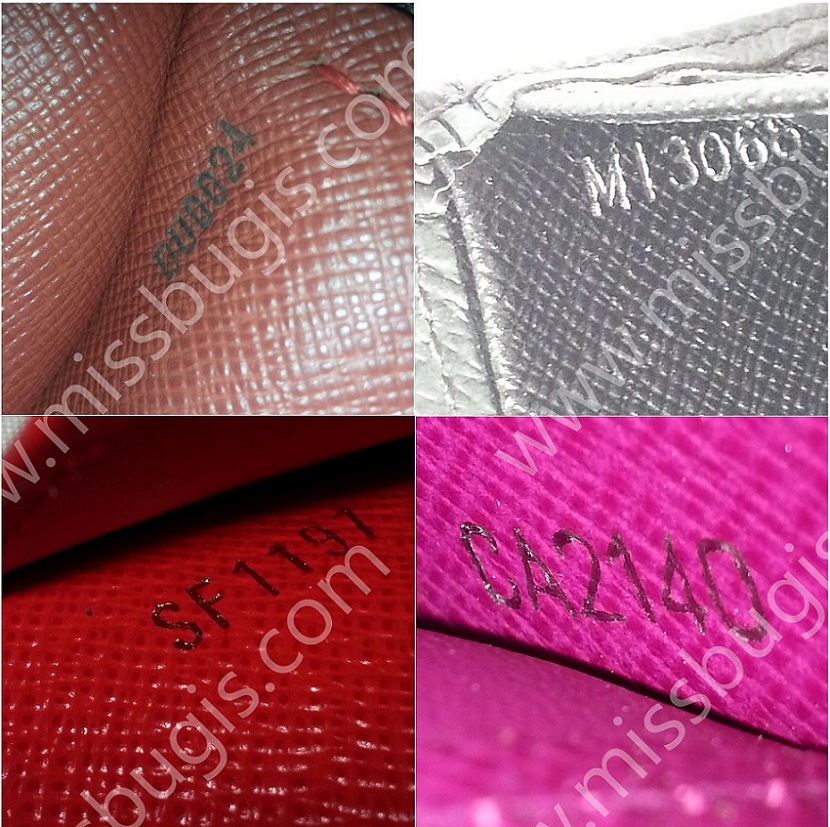 Production Country Code
The country code is non-exclusive. That means two countries can share the same code.
Country code SD was used on Louis Vuitton bags made in France that were produced up until 1995.
Bags which produced after 1995 with country code SD were made in the USA. It denotes items were made in San Dimas, a city in California.
DK or OK code denotes Louis Vuitton bags which lining have been replaced (so-called re-lined) in France or USA. Both codes were included in the table below as well. There are cases where the country codes and the "made in" labels do not correspond. It is completely alright if the re-lining was done in the country outside where the bag was originally made.
This table is not the end of this post. Remember to scroll down to the bottom of the page for a beautiful image of Louis Vuitton's Maison in Asnieres-sur-Seine, France and bonus information.
Attention: The internal data of table "19" is corrupted!
Click here to go back to table of content.
Louis Vuitton's Special Order
Special order (code AAS, see table above) refers to made-to-order pieces, one-off designs and designs in rare and precious leathers. La Galerie d'Asnieres is the Maison where special orders are created. These special ordered luxury goods are not available for sales in the boutiques.
Bonus Information
Louis Vuitton bags made prior year 1991 carry "made in france" labels. Bags made after that were labelled as "made in France".
I know all these might overwhelm you but do come back anytime for a reference when needed. I wish you all the best in your bag hunt.