Reading Hermes Scarf and Its Colourway
The first Hermes square scarf (carré in French) was introduced in year 1937, followed by stoles, mufflers, twillies, losanges and triangle scarves of various sizes and materials. Some dimensions, shapes and techniques were launched in the recent years such as the Love Pocket Square was introduced around December 2019/January 2020, square 20 x 20cm scarf in February 2020, round 140 x 140cm scarf in June 2020 and double-face scarf around March to June 2020. You may find out more about Hermes Square Scarf Size Guide here.
More than 2,000 designs were being produced and millions pieces of brand new scarves sold globally to date. And there are untraceable numbers of scarves that were being traded in the pre-owned market. Finding out the titles of the scarves hence can be a challenging task if the titles were not printed on the scarves, not to mention about the year of issue, re-issue, name of artist, total number of colourway for a particular design and their current worth.
So, how to know your Hermes scarf better if you have acquired it from the secondhand market, or received it as a gift in pre-loved condition? We all know that it is common for these beautiful scarves not as complete as if we have bought them from the boutique. Online search based on images can be overwhelming and too time consuming. But if your scarf has the title printed on, finding out the details can be a very easy task.
Reading Hermes Scarf
Sample #1
If the title was printed on a scarf, in most of the circumstances, it is very easy to locate. See example from my sold Hermes 90cm Brides de Gala En Finesse Silk Scarf. I am regretting selling away some of my scarves after I have found out that they are quite rare ?, this was one of them.

Sample #2
This Hermes 90cm Arcs-En-Ciel silk scarf is a very good example. You can find the © HERMÈS copyright mark, artist name Julia Abadie, scarf title and HERMÈS PARIS mark on the scarf. This design comes in a few colourways as other designs do such as in dominating red, brown, yellow, navy and green. I still find this design in white colourway the nicest among all.
Sample #3
This is another scarf that I regretted selling away, Hermes 90cm Champignons Mushroom Silk Scarf. It has no title printed on.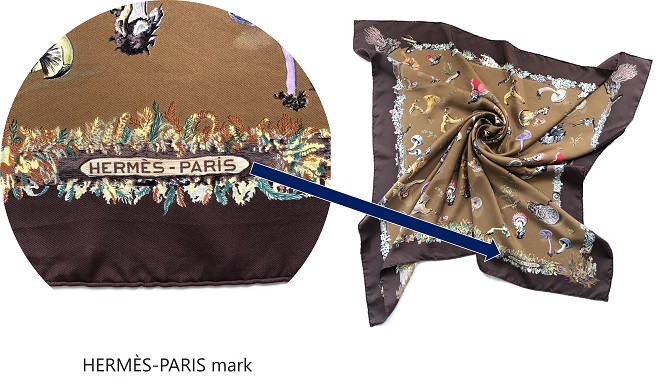 Sample #4
Sometimes, you need a delicate observation to notice the scarf title. See this En Attendant Ulysse Shawl 140. It consisted of 70% cashmere and 30% silk with hand-rolled edges, made in France and designed by Florence Manlik. The scarf title was blended so well into the design and thus difficult to identify. The product reference is H243575S and colourway number is 04 (orange/vermillon/bougainvillier) for image below. Photo courtesy of Hermes.

Sample #5
When I was compiling the Hermes scarf library, I realised that the title printed on scarves may not be exactly the same as the scarf title on Hermes website. See this example from Jungle Love Rainbow, designed by Robert Dallet for Fall/Winter 2019. The product reference is H003369S and colourway number is 16 (Noir/Gris/Blanc) for image below. Photo courtesy of Hermes.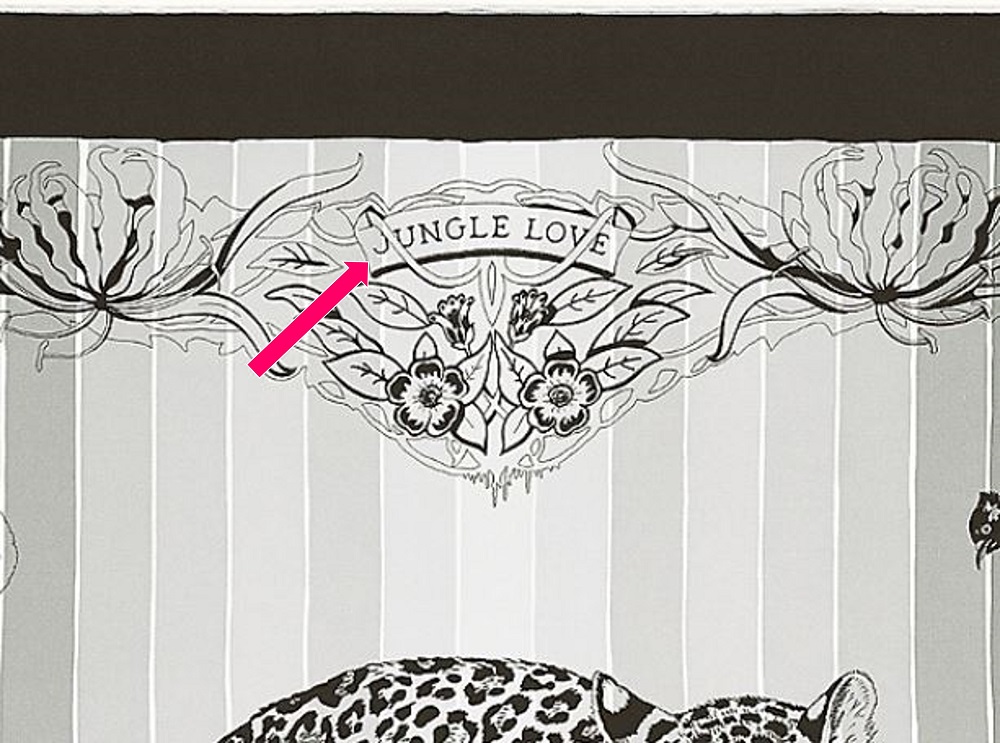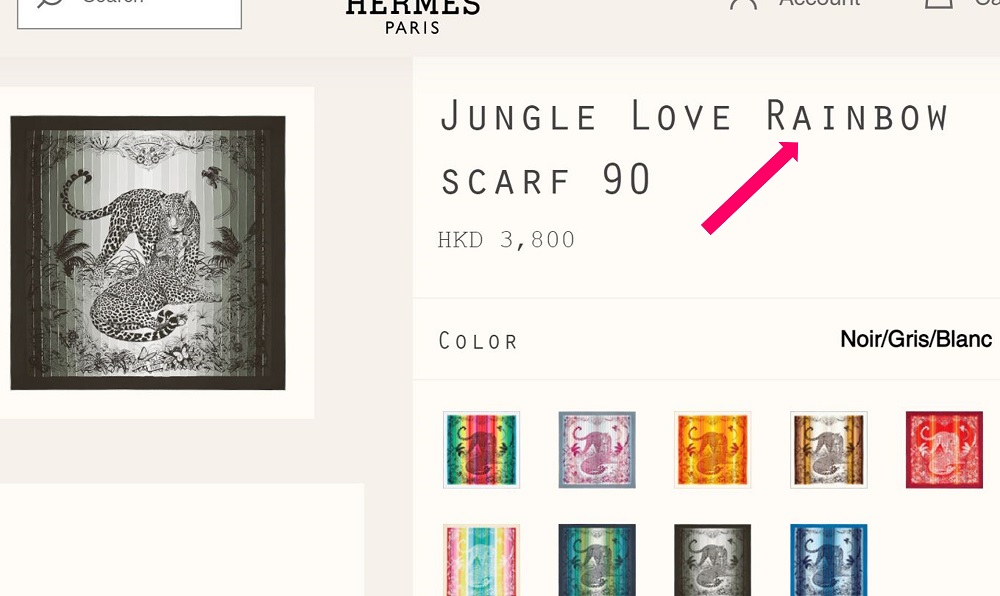 What Is Hermes Scarf Colourway?
You may come across the term "CW" when browsing some other websites or forums about luxury fashion. It refers to colourway. Head to my another blog if you are keen to know what are the popular luxury fashion abbreviations and acronyms.
A single Hermes scarf design comes in many colourways. See these samples of En Attendant Ulysse Scarf 45. Each scarf has its own dominating colour such as pink, red, navy and light blue. This is how Hermes named its scarf colourway. Photos courtesy of Hermes.
Product reference:
H893622S 01 – Rose/Bleu Jean/Jaune
H893622S 06 – Rose Vif/Blanc/Multicolore
H893622S 07 – Rouge/Bleu/Jaune
H893622S 05 – Indigo/Blanc/Rose Vif
H893622S 02 – Bleu Ciel/Jaune/Vert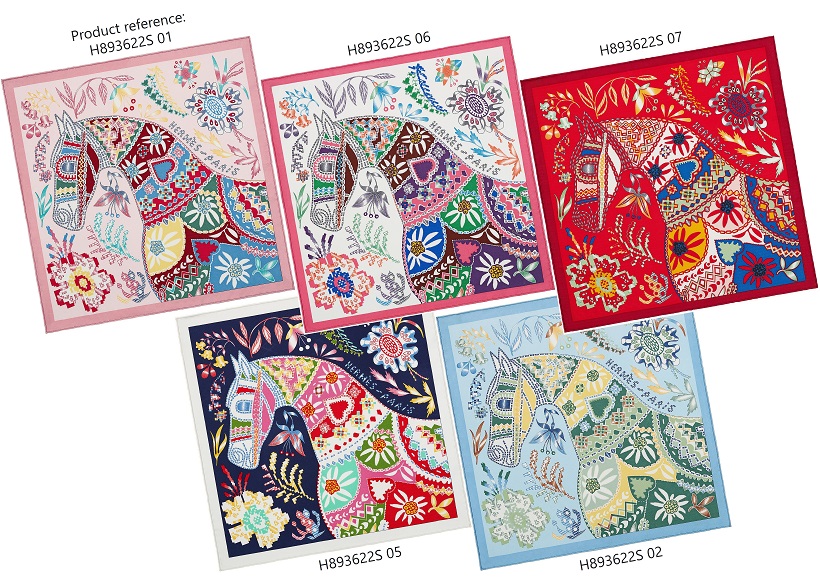 The product reference can be found at the bottom of the product listing details (webpage). See this.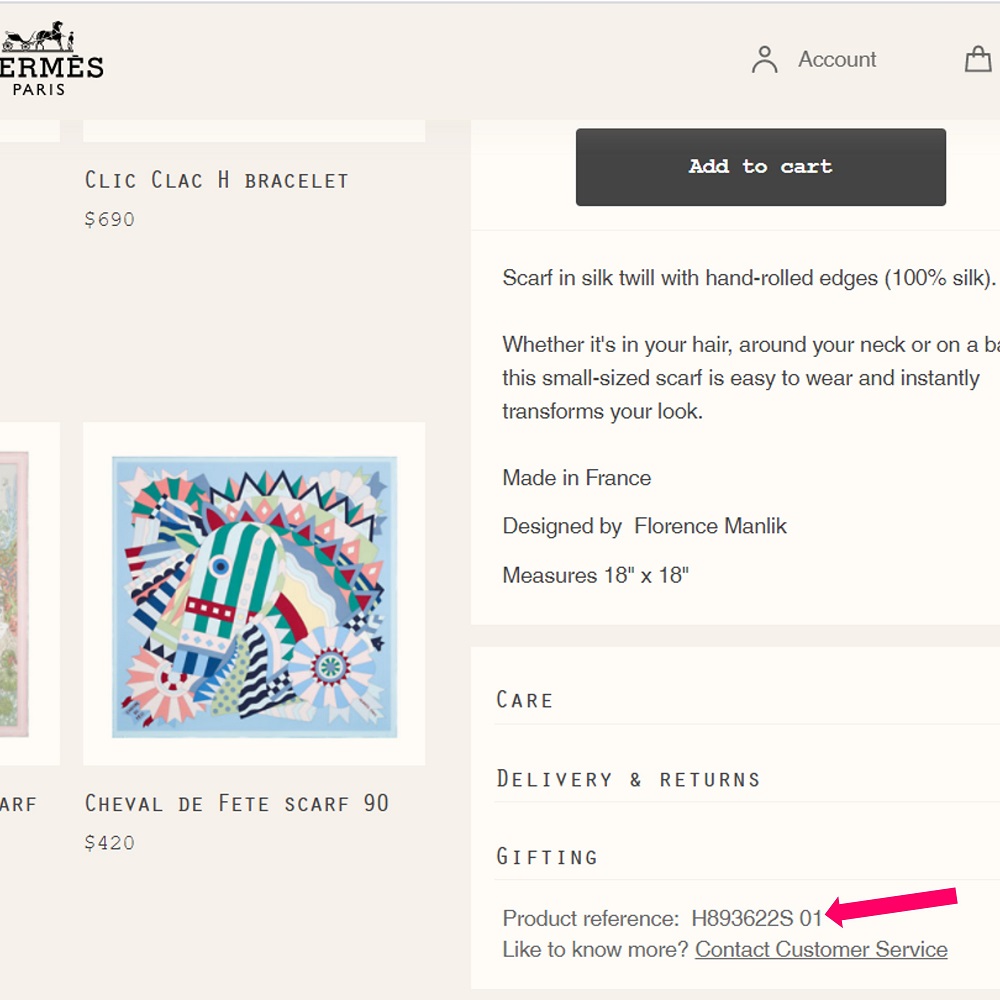 The actual scarf you are seeing at the boutique is different from if you are seeing it from your computer because of the natural and indoor lighting and monitor screen setting. These factors have great impacts on the shade of colours presented.
Inconsistency and Variance
Sample #1
Another inconsistency on Hermes websites across different countries I have observed is the numbering of colourway. See sample of Faubourg Rainbow shawl 140 from Hermes USA and Germany.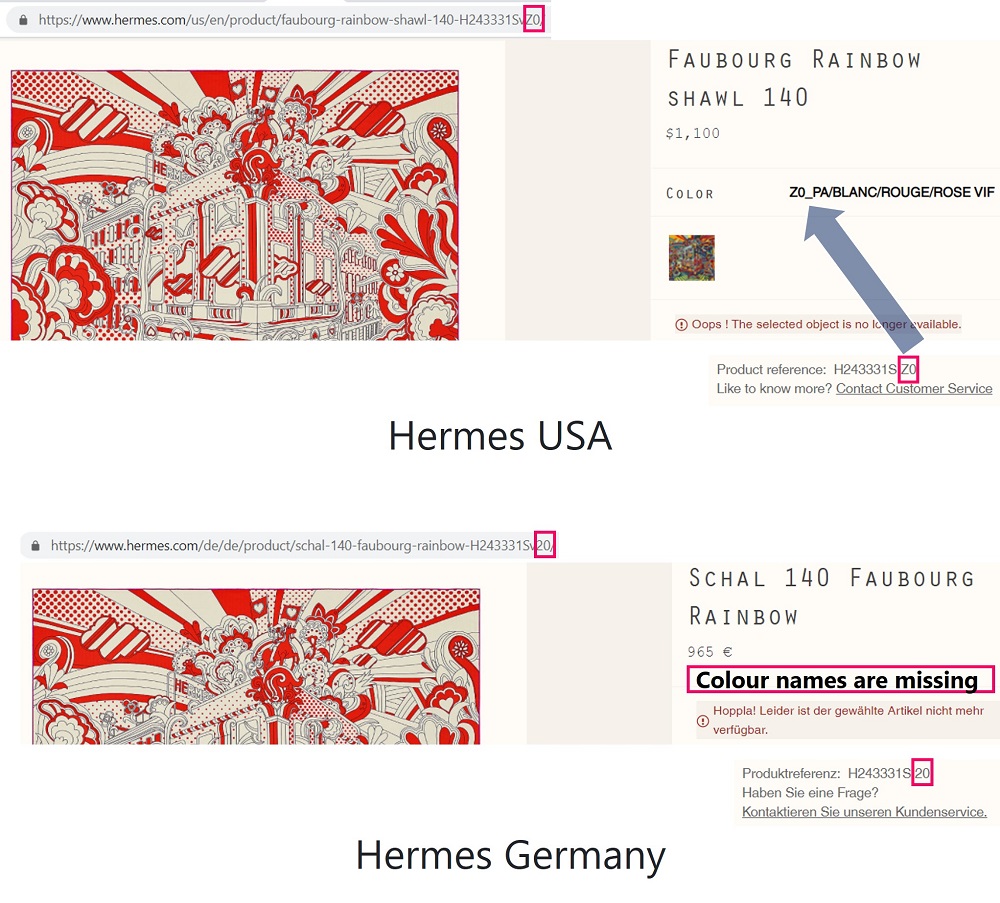 Generally, the colour names will be hidden for scarves with colourway number in digit (see second image, colourway number 20), once the items are out of stock.
Whereas the colour names for scarves with colourway number in alphanumeric will be remained although the items are out of stock, see first image (colourway number Z0).
Sample #2
This scarf, titled Carrick Bend, from the men's Spring/Summer 2020 collection, varies in term of the number following scarf title, material compositions and colourway numbers. These variances were found on Hermes China and Singapore websites.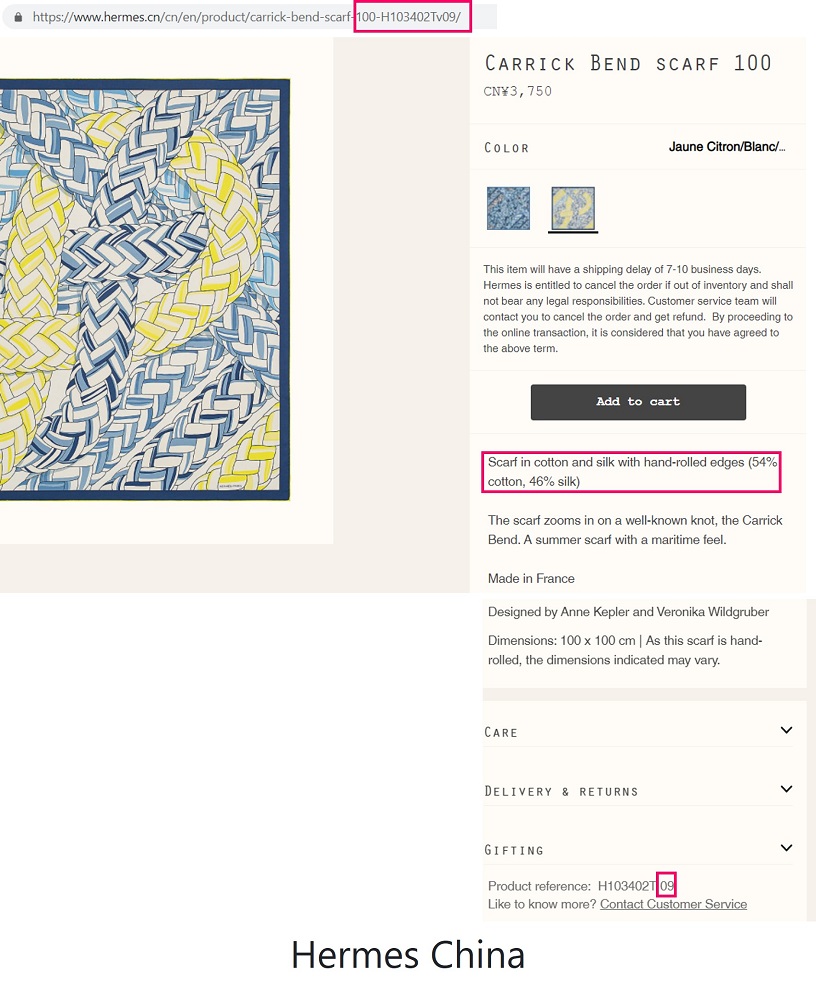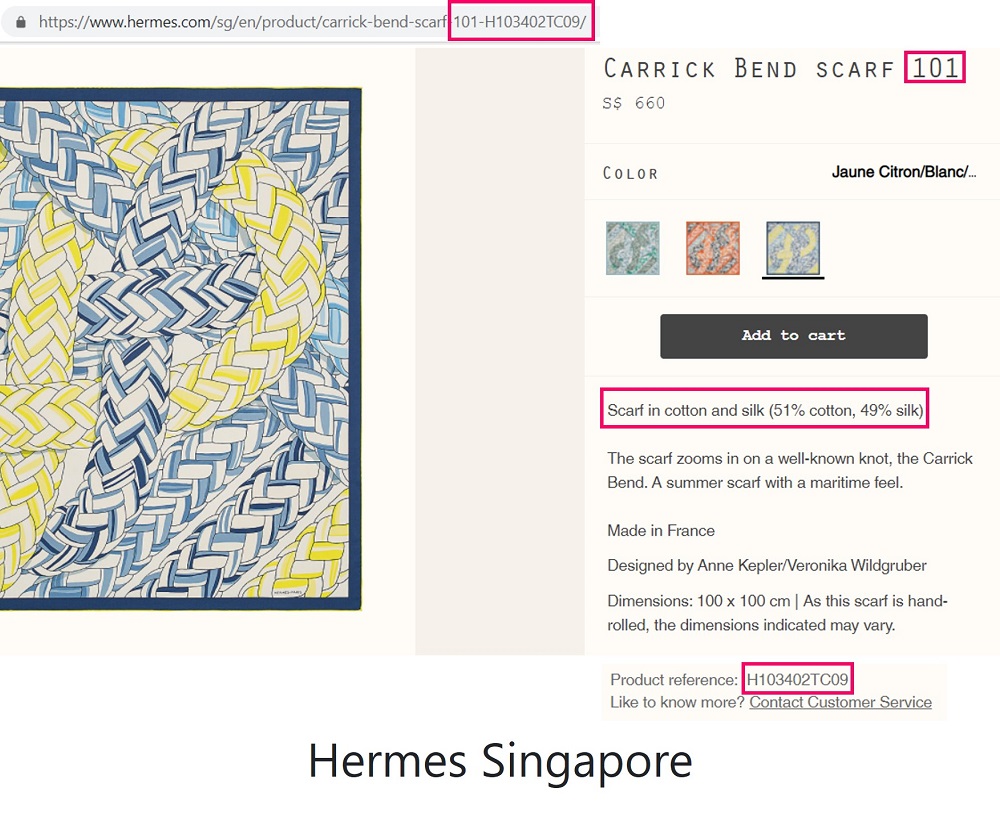 Reading Hermes Scarf Paper Tag
Many do not realise the importance of keeping Hermes scarf paper tag. It speaks a lot about the scarf such as size, material, title, colourway and product reference number (design number and colourway number).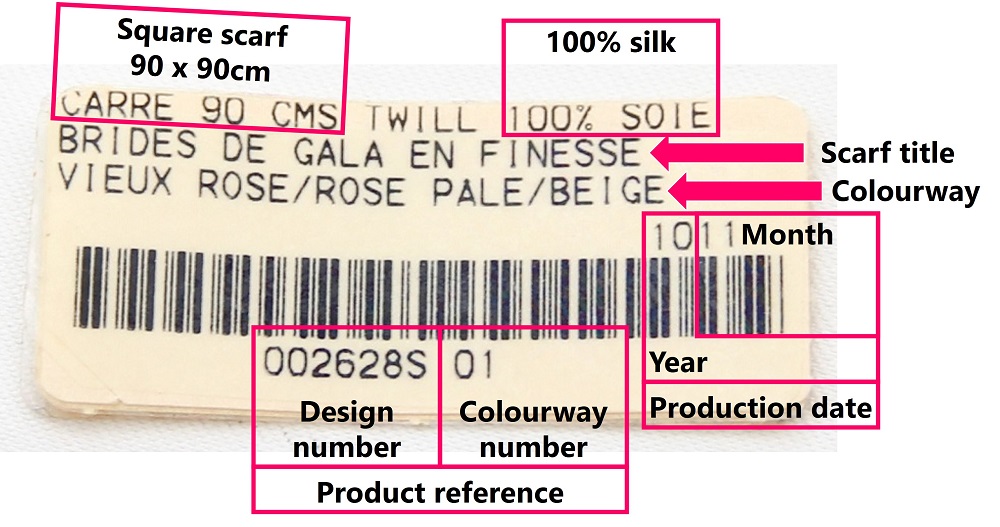 Scarf Without Artist Name
Some scarves do not come with artist/designer names. Images below show scarf with (left) and without (right) a designer name.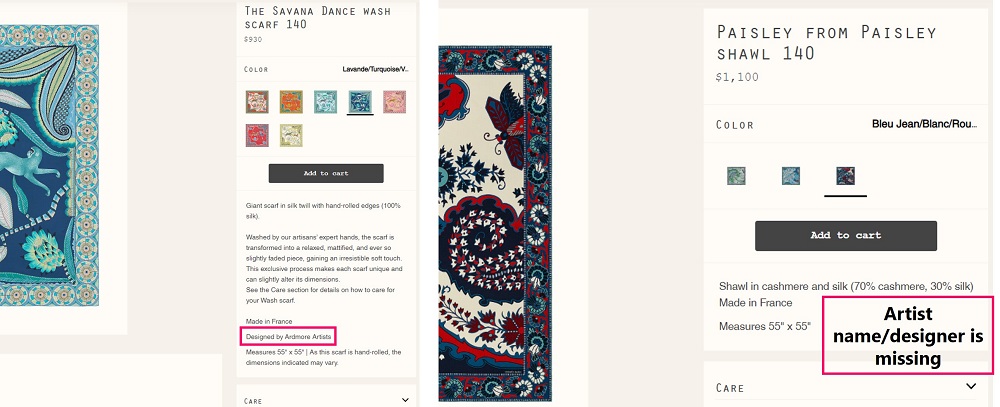 Other Resources
Scarf Database
On top of Pinterest or Google image search, HSCI Hermes Scarf Catalogue and luxury-scarves.com are great places to do your research. This is not a sponsored mention.
The Making of Scarf
Hermes uses various techniques to print scarves. For silk marbling, they are engaging external professionals to do the printing. As quoted by Hermes in the silk marbling video, they are seeking out unique skills and know-how and contributes to keeping them alive. I was somehow touched by their mission.
Silk Marbling
Silk Printing
Last updated on May 26, 2021.